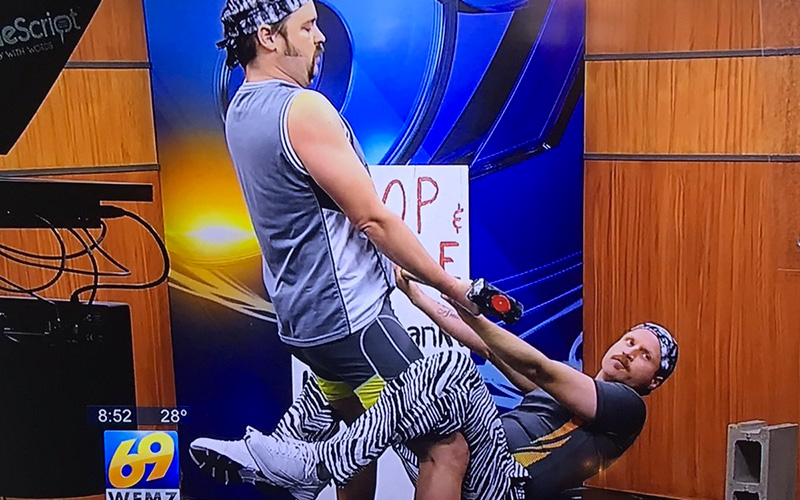 Anyone who works on an early morning, local news show knows it's not the most glamorous of jobs. Sure, it could be a stepping stone to something bigger, but in all actuality it's just an attempt to fill those early morning hours with something that at least resembles decent television for the 15 people watching at 4 a.m.
And that is how you end up having a pair of inspirational strongmen, Chop and Steele, appear on not one, not two, but three separate news shows. The duo had sent out a press release that cited a nonexistent tour and an America's Got Talent appearance (with no video or documentation of either) and was picked up by stations in Wisconsin, North Dakota, and Pennsylvania.
But Chop and Steele, really Joe Pickett and Nick Prueher, are not, in fact, inspirational bodybuilders. They were not on America's Got Talent, and they certainly were not on tour with their impressive feats of strength. Instead, they are just two pranksters looking to have some fun.
The result? Everything you would hope for it to be.
Despite being fake strongmen, Pickett AKA Chop actually broke a finger during their tennis racket "workout," but like the true fake strongman that he is, he pushed through the pain. After their third performance, the duo cancelled their other appearances due to being "stressed out."
Now, if the pair – or their antics – look familiar, it's because this is not the first time they've managed to trick local news stations into putting them on air under the guise of being experts. There was "Chef Keith," who appeared on five separate morning shows only to such concoctions as the ham, pie, and gravy smoothie and mashed-potato ice cream cone with corn sprinkles.
And then there's my personal favorite, the yo-yo master K-Strass. Again, the brainchild of Pickett and Prueher, K-Strass was brought onto shows as a travelling yo-yo master who performs inspirational routines. When asked to show off some of his skills, audiences were treated to some of the best television to ever grace the small screen.
Despite all of this, the two say that none of the newscasters were upset about their appearances, but one station did email the day after the broadcast, asking for Chop and Steele's credentials. I only hope that these TV stations will continue to be as incompetent as they have been so we can get more of these future "experts."
Be the first to receive breaking news alerts and more stories like this by subscribing to our mailing list.