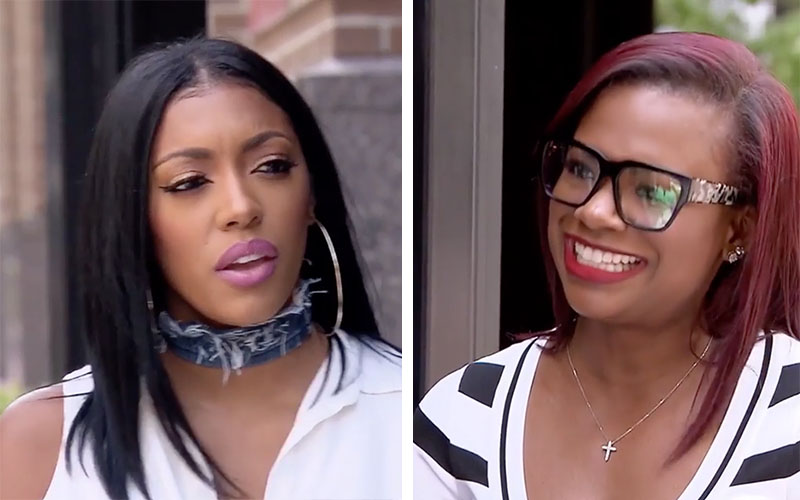 The ninth season of Real Housewives of Atlanta has been one for the record books. If this season had a motto, it would definitely be: "Expect the unexpected!"
First, we saw Kenya and Phaedra play nice for the first time in years. The two actually seemed to bond and rekindle a friendship that most assumed was dead and beyond resurrection. Next, we saw Marlo pop up on the show as the friend of Sheree. Mind you, this is the same woman who Marlo once had a drag-down shouting match with in South Africa.
RELATED: Kandi & Porsha Go At It in "RHOA" Preview
Now, the latest twist in RHOA world comes from an argument that broke out between Kandi and Porsha as it was revealed that Porsha was one of the main sources fueling the "Kandi is a lesbian" rumors. Porsha thought she was slick and would get away with her whisper campaign, but Sheree put Porsha on blast when she confessed that Porsha was the one running around saying that Kandi was a closet lesbian.
But Kandi had something for dat ass.
RELATED: Kandi Burruss Talks Porsha Williams Lesbian Drama
During a lunch meeting with Porsha, Kandi unleashed a dirty secret she'd been keeping about the time that Porsha tongued her down and told her she wanted to eat Kandi's pussy until she came.
Now there have been some scandals on RHOA in the past, but hearing something this salacious and explicit between two castmates is uncharted territory. Twitter, frankly, lost its collective mind after Kandi let loose that Porsha wanted to lick her kandi-koated kat.
Porsha wanted to get her mouf Kandi Koated!!!! Yaaasssss pic.twitter.com/HibiI3EYXi

— [insert something witty] (@D0wJ0nEs) February 20, 2017
https://twitter.com/essence_0f_sean/status/833483937246765057
Porsha was shook when Kandi mentioned she wanted to eat ha mothafucking pussy #RHOA pic.twitter.com/nM8R2DfCDm

— thais ? (@thaisbmartini) February 20, 2017
Kandi to Porsha- "just like when you said you wanted to eat my pussy until I came" OOHH MY! #RHOA pic.twitter.com/DkSCn8o5Kg

— W. (@mickeygallxvich) February 20, 2017
https://twitter.com/napturally17/status/833515248158179328
Porsha jumped quickly and claimed that Kandi was lying, saying that she is "not into tecaups, short and stout, bitch."
But many RHOA viewers weren't buying what Porsha was selling.
Kandi has ALWAYS been open about her sexuality. So, why would she lie all of the sudden? I'd believe her over Porsha any day. #RHOA

— ? (@derpingwithari) February 20, 2017
Kandi has always been honest. ESPECIALLY about her sexcapdes. That's why I'm 98.5% sure that Porsha is lying to save face. #rhoa

— Michelle "ATLien" Brown (@ATLien) February 20, 2017
@Kandi You live life in the open. Porsha doesn't; she deflects, lies, and never takes responsibility. It's easy to see the truth. #rhoa

— Gidget (@DesWlliamson) February 20, 2017
Porsha did have a few defenders though:
I'm sure if you did want to eat some pussy you could find a waay hotter one then kandi ijs no shade

— MinxCarribeanGirl (@sosoftsosexy) February 20, 2017
But during the Watch What Happens Live aftershow which aired after the episode, when fans were asked whose side they were on, it was a landslide for Team Kandi.
https://twitter.com/isntdaveone/status/833528726746980352
Porsha, if your dumbass is gonna run around calling someone a lesbian, you might wanna make sure it's not one of the women who you propositioned with an offer to lick her vagina hole like a fresh Krispy Kreme donut.
Be the first to receive breaking news alerts and more stories like this by subscribing to our mailing list.