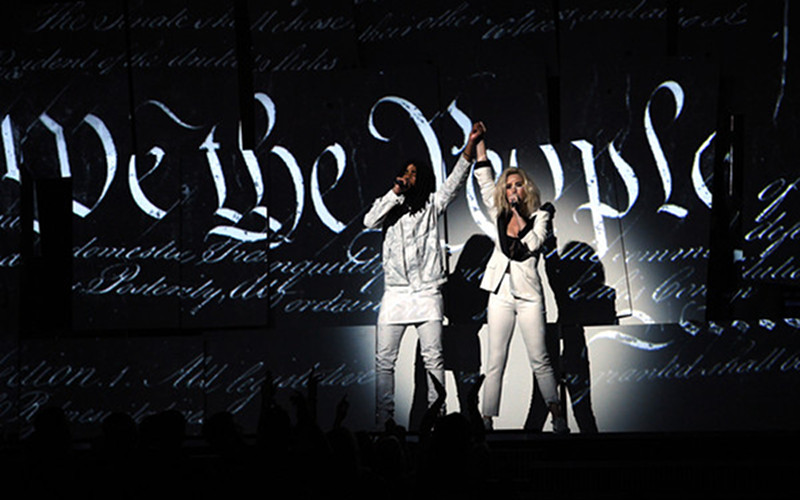 What better place to perform your newest single live for the first time than at the Grammy Awards? Katy Perry not only performed "Chained to the Rhythm" with Skip Marley, but also took the opportunity to make an important political statement through imagery.
Perry's set consisted of a house safely enclosed by a white picket fence with images of clouds projected onto the moving white props. To add context, "Chained to the Rhythm" is a disco-pop tune that lyrically examines how some people live in their own bubbles and are oblivious to hardships and concerns of others with different backgrounds and experiences.
She explained to Ryan Seacrest:
"There's so much divisiveness, and people on one side or the other, and we just need to listen to each other. So, I hope that the song does that."
She also wore a red "persist" armband, which is a nod to Sen. Elizabeth Warren who attempted to keep speaking after being silenced by a Republican-majority Senate vote during Attorney General Jeff Sessions' confirmation hearing.
But just in case you weren't comprehending the subtext of her performance, Perry's political message became crystal clear as the fences formed the preamble of the Constitution at the end of the performance. "No hate!" she yelled while holding Marley's hand up in the air.
Whereas A Tribe Called Quest and Busta Rhymes' politically-charged performance was aggressive and defiant, Perry opted for a subdued "We need to come together" approach. It may not be as impactful (or memorable), but it got the job the done.
Katy Perry & Skip Marley's full performance #ChainedToTheRhythm #Grammys @kingkayden @kxtysboy @officialsahilg_ https://t.co/yKp5aWErAG

— Orteck! Inc. (@orteck_co) February 13, 2017
Be the first to receive breaking news alerts and more stories like this by subscribing to our mailing list.