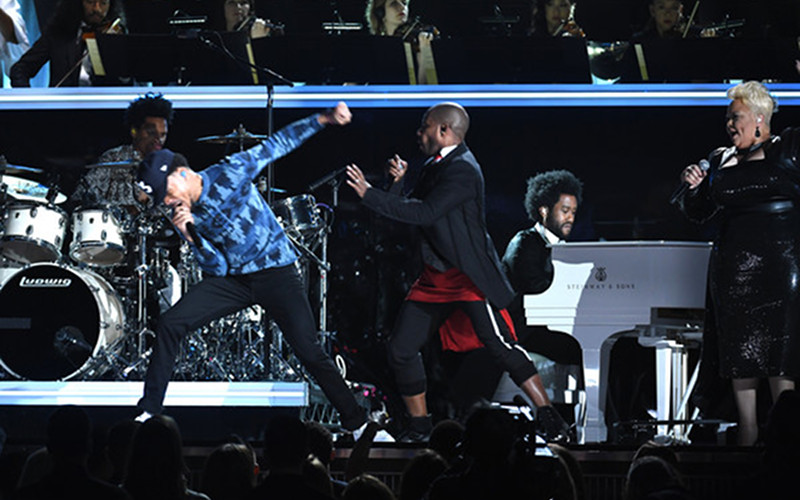 Chance the Rapper made his Grammy stage debut at the 2017 ceremony and, man, did he make a huge splash. The Chicagoan earned three Grammys, including Best New Artist and Best Rap Album, making Coloring Book the first streaming-only album to earn a nomination and subsequent win.
Following his history-making achievements, Chance took to the stage to give the most uplifting and exuberant performance of the night. Accompanied by his cousin Nicole, Kirk Franklin, Tamela Mann and a jubilant gospel choir, Chance took the Grammys to church as he performed "How Great" and "All We Got" with interpolations of "No Problem" and "Blessings."
The 23-year-old was definitely hyped from winning three Grammys as he jumped around the stage wearing is signature "3" cap. Nevertheless, he flawlessly performed the gospel-rap tracks from Coloring Book.
I often joke that awards season is my favorite season. This is because it's the place where dreams really do come true. Chance the Rapper's dream came to fruition in front of our eyes. He believed in his goal, never deterred from his principles and has now opened many doors for other independent and streaming artists.
Although Adele won all five of her nominations, I would argue the 59th Annual Grammy Awards belong to Chance the Rapper. (Chance had seven nominations in total.)
Watch his Grammys performance with Kirk Franklin and Tamela Mann below:
http://www.dailymotion.com/video/x5bjj6v_chance-the-rapper-performs-at-the-grammys_music
Be the first to receive breaking news alerts and more stories like this by subscribing to our mailing list.