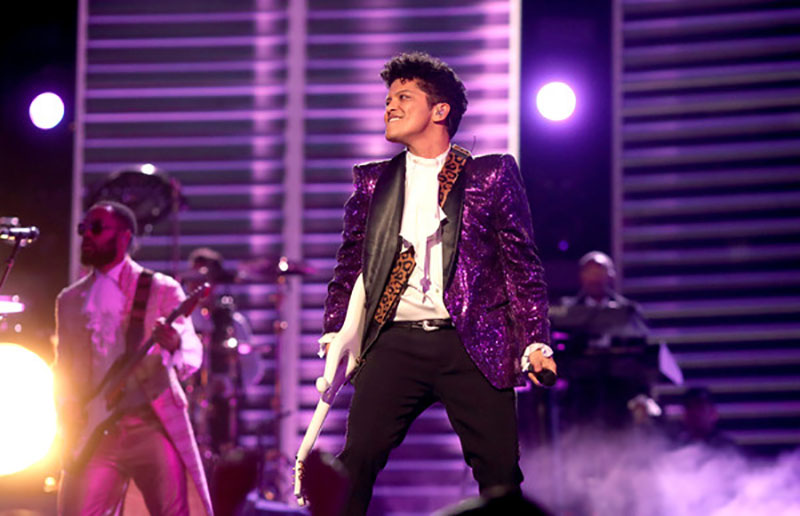 As an artist who first grabbed attention for his impersonation of Elvis as a child, it perhaps shouldn't be a surprise that Bruno Mars is good for a tribute performance.
In many ways, he's the heir to James Brown, Michael Jackson, Bobby Brown and Prince's throne. Mars is a chameleon though, and he channels some idols more than others depending on the project or performance. And he does so in way that seems more controlled and sanitized than the source material. And in that way, Bruno's not unlike Beyoncé, who pulls the best from her idols (Whitney, Michael Jackson, Prince, Lauryn Hill) but doesn't bring along their vices.
As a short, feisty, light-skinned man with curly hair, Bruno fits the profile for stepping into Prince's high-heeled shoes. Though Bruno's brown comes from a different part of the world (Puerto Rico + the Phillipines) than Prince's did, Mars has proved himself to be an incredible student of pop, rock and R&B. He effortlessly mimics and channels the Purple Ones vocals and physical gestures as he hit the stage to perform "Let's Go Crazy" in honor of Prince at the 2017 Grammys.
Bruno's performance followed a solid set from Prince's protege, Morris Day and the Time, who Bruno also draws much inspiration from in other previously released material.
While Mars has long been known as a capable dancer and singer, the Prince tribute offers him the chance to show off his guitar playing skills as well. Is there nothing this man can't do?
Check out Bruno and Morris Day & The Time's electric tribute to Prince at the 2017 Grammys below:
http://www.dailymotion.com/video/x5bjfv2_the-grammys-pay-tribute-to-prince_music
Be the first to receive breaking news alerts and more stories like this by subscribing to our mailing list.