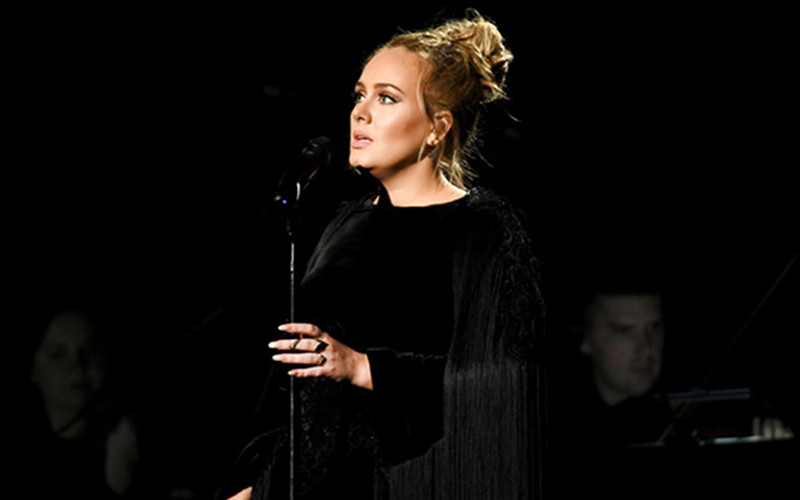 Adele had the honor or opening the 2017 Grammy Awards, but this was nothing to the pressure she felt performing a tribute to idol and fellow Brit George Michael, who passed away in December.
Adele performed a new arrangement of Michael's "Fastlove." The haunting cover was arranged by Hans Zimmer and featured a full string orchestra. Unfortunately, slightly under the note, Adele began the song in the wrong key. After singing a few lines, she stopped the performance.
"I know it's live TV. I'm sorry, but I can't do it again like last year. I'm sorry for swearing and I'm sorry for starting again. Can we please start it again? I'm sorry I can't mess this up for him."
Not wanting a repeat of her 2016 Grammy performance, which had audio issues, she wanted to start "Fastlove" over in order to do her idol's tribute with justice. With support from the audience, she let out one more f-bomb and gave the song another try from the top.
Flawless! Fighting back tears, she carried on through the song and gave a tribute Michael would certainly be proud of. A visibly emotional Adele briefly turned away from the audience as she received an extended standing ovation.
Adele later told press she had been working on the song for a month but had a "shaky rehearsal" earlier that day.
"I was devastated by that, and my rehearsal — I did have a shaky rehearsal today. But I have been working very hard on this tribute for him, every day."
Michael unexpectedly died from heart failure on Christmas Day 2016 at just 53. He won two Grammys during his 35-year-long career, including Album of the Year in 1989 (Faith) and Best R&B Vocal Performance by a Duo or Group with Aretha Franklin in 1987 ("I Knew You Were Waiting for Me").
Watch Adele's tribute performance below:
Be the first to receive breaking news alerts and more stories like this by subscribing to our mailing list.