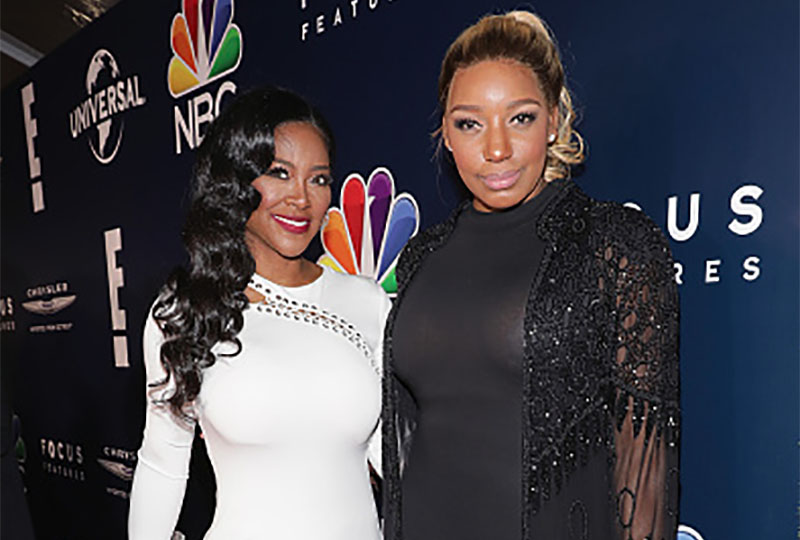 Who thought we'd ever the see the day when NeNe Leakes and Kenya Moore would once again be on friendly terms?
NeNe Leakes, the original queen bee of The Real Housewives of Atlanta franchise, made it clear that Kenya Moore was no friend of hers in the past few seasons. She has shown outright contempt for the former Miss USA winner and has mocked her intelligence, her sanity and her (allegedly) fake booty.
Furthermore, when NeNe was last on RHOA, she had cozied up to Phaedra and Porsha, Kenya Moore's two mortal enemies.
But I suppose it's a completely brand-new day because NeNe Leakes decided to shock the world when she announced that her surprise +1 for the Golden Globes was none other than Twirl herself: Miss Kenya Moore.
Dare I say it, but NeNe and Kenya actually really seem to be enjoying each other's company.
Thankfully, the chummy camaraderie continued through the night as the two hit the red carpet.
What's really going on here? While I'm heartened to see NeNe and Kenya kiking it together again (I'm one of the few who like NeNe and Kenya better as friends than enemies), I think NeNe's motivation for ballin' so hard with Kenya was for two reasons.
1) NeNe wants RHOA viewers to say her name, say her name. NeNe is not an official cast member of RHOA this season or even a friend of the show like she was the previous season. NeNe may have played hard ball when it came time for contract negotiations, but she knows RHOA is her bread and butter so this move is her way of maintaining links to the franchise regardless.
2) They want to piss Marlo Hampton off. When Kenya wanted to piss NeNe off before, she decided to pull in NeNe's one-time friend Marlo Hampton, which thoroughly pissed NeNe off. Well, the shoe is now on the other foot as word on the street is that Kenya and Marlo are now on the outs. The enemy of your enemy is always your friend.
Be the first to receive breaking news alerts and more stories like this by subscribing to our mailing list.