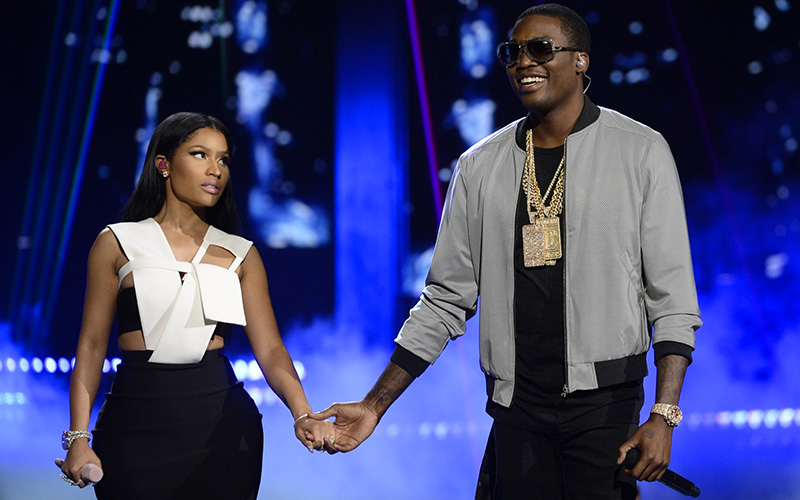 It's well after Christmas, but mark this date down as the day we received a true gift, for Nicki Minaj announced to the world on Twitter that her romantic relationship with Meek Mill had officially come to an end.
To confirm, yes I am single. Focusing on my work & looking forward to sharing it with you guys really soon. Have a blessed New Year. Love u?

— QUEEN (@NICKIMINAJ) January 5, 2017
If this is a sign of things to come in 2017, then I think it's fair to say that great things lie ahead for us all.
Reports of Meek and Nicki's relationship being on the rocks have been swirling for some time, but for everything the gossip blogs (*ahem*) picked up about the bad blood between Rahmeek and Onika, they'd post a nauseating PDA pic of them on IG to shut the haters down. You know, like this one:
https://www.instagram.com/p/BNkomOzhOIa/
The thing about Meek Mill and Nicki's relationship is that it didn't ALWAYS seem like a bad idea. In the beginning, Meek and Nicki made sense, as Meek's star in hip-hop still seemed to shine brightly. But then Meek started an unnecessary beef with Drake, Nicki's Young Money littermate, and ended up getting completely ethered, roasted and toasted by everyone on the world wide web.
After THAT, Meek just seemed like a neutered dog and Nicki seemed like a babysitter, as Meek time and time again took L's in public for temper tantrums that played out on social media in ways that continue to mar his brand and reputation.
To Nicki's credit, her willingness to stick by Meek's side through the rain, even when most women would've said, "This dude is trippin' and he's not taking me down with him on this ship."
Meek Mill for his part, has done his usual thing of commenting and dropping petty hints on social media about his break-up with Nicki, then deleting them. The Shade Room, however, sees and hears all.
Hopefully this means that Nicki can finally mend her friendship/relationship/acquaintance again with Drake so they can have that old thing back:
Speaking of which, Nicki's ex-boyfriend Safaree made it no secret that he found the news of Nicki's newly single status to be a great thing for him:
Hey big head ?? #stuntgang

— @IAMSAFAREE (@IAMSAFAREE) January 5, 2017
You already know he's slidin' back up in Nicki's DMs as we speak.
Once again, congrats, Nicki, on dropping that deadweight! Hopefully this leads to great music and a revitalized focus on your craft, since you no longer have to make excuses or cover for a spoiled man-baby.
Be the first to receive breaking news alerts and more stories like this by subscribing to our mailing list.