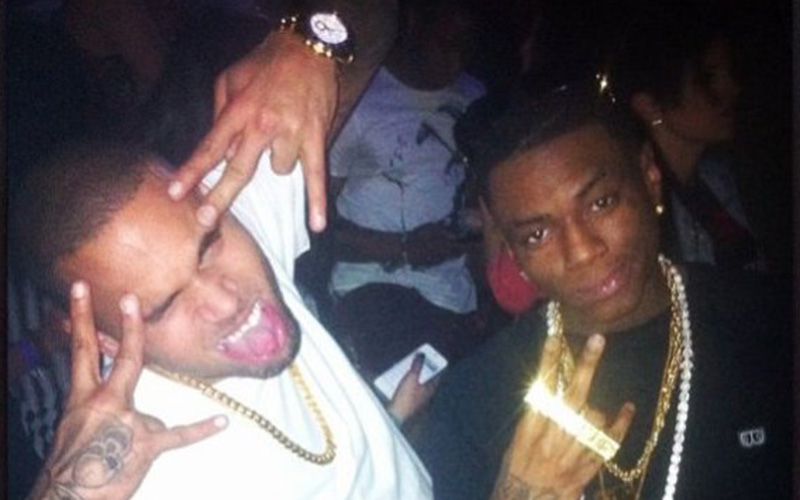 Soulja Boy's almost-fight on the streets of Compton got him shook. Just one day after instigating an epic social media beef with Chris Brown, the rapper is offering an apology.
Soulja has been making headlines for a few months for his random beefs and erratic behavior. However, after hearing his mother was hospitalized, the rapper took to Twitter and apologized to his fans for "acting out" and "wilding out."
"I just want to send an apology. Over the past couple of months, I've been acting out, I've been wilding out, and at the end of the day it's not about who starts the beefs, it's about who ends them."
https://twitter.com/souljaboy/status/816681493883826180
He then seemingly ended his beefs with Chris, Lil Yachty, and Quavo.
"I want to make music with Chris Brown, Yachty, Quavo, everybody. So, to all the media, to all the blogs, to all my homies from the hood that feel like I been on some hot boy sh*t, I apologize. I'm back to the music."
Soulja also added that his mother is expected to recover from her undisclosed illness. But the situation put things in perspective for the 26-year-old.
"She should be good but no amount of money, no amount of cars, no amount of fame will make me be alright when knowing my mom is sick or anything happening to mom. I love my mother, she always been there since I been born, I got her name tatted on my face. I know she's not proud of my actions and what I've been doing recently."
Soulja's most recent beef began yesterday. According to the rapper, Chris Brown called and threatened him after Soulja liked one of Karrueche Tran's Instagram photos. This sparked a back-and-forth war of words on social media between the two.
Chris continued to say he would "whoop [Soulja's] ass," while Soulja called his foe a woman beater and called out his alleged coke use.
Boxer Adrien Broner — who was name dropped during the online beef — posted this fight promo:
https://www.instagram.com/p/BO2ae8xjrMF/
Soulja ended the day by almost getting into a fight with an unidentified man while continuing to instigate the Chris situation during an Instagram Live broadcast. Though no actual fight occurred, the video went viral and Soulja was clowned on social media for getting jumped and robbed in his own neighborhood.
Let's hope this is truly the end of Soulja's antics, at least for a while. This was a rough way to kick off 2017.
Be the first to receive breaking news alerts and more stories like this by subscribing to our mailing list.