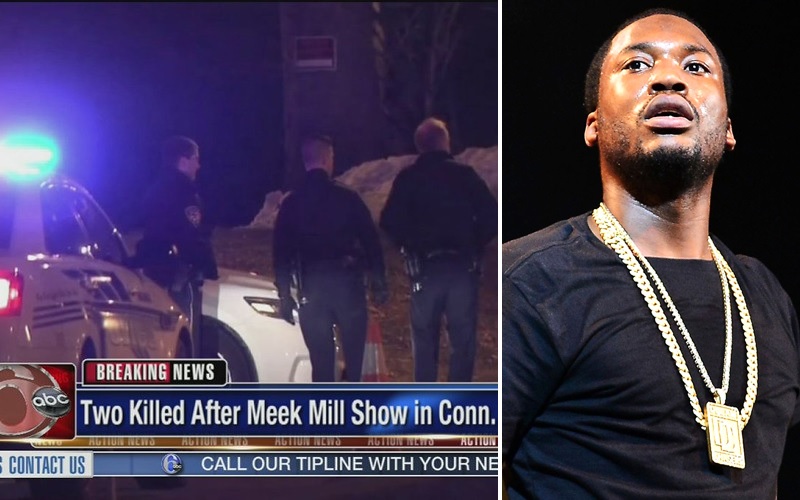 Two people are dead following a shooting outside a Connecticut concert venue where Meek Mill had just finished his performance. Two other victims were also shot, but do not have life-threatening injuries.
Meek finished his Friday (Dec. 30) show at the Oakdale Theatre in Wallingford, CT around 11:00 PM and was walking out the venue as shots were fired. The people shot were also leaving the theater. Video footage of the scene circulated on social media.
https://twitter.com/HollyGozzip/status/815068928028344320
Shooting at Meek Mill concert in CT pic.twitter.com/DDmZFCMBph

— Shannon Person (@SPSportsEnt) December 31, 2016
Meek was uninjured, but two men were dead on arrival at the hospital, while two other men were taken to local hospitals with non-life threatening injuries.
Police did not release any details on the identity of the victims and are still looking for the shooter(s). It's unknown if the victims knew each other or if they knew the shooter(s). Possible motives are also unknown at this point.
Wallingford Police Lt. Cheryl Bradley said:
"We received a 911 call from an employee at the Oakdale Theatre … The caller reported that he was outside of the Oakdale with a victim who was shot in the leg. Our units responding determined that there were actually 4 victims, 2 with non-life-threatening injuries … 2 victims determined to be deceased. Everything occurred outside of the Oakdale, it appeared to be near closing, the closing of the event. At this time, we are looking into possible leads, suspect vehicles, descriptions."
According to Uproxx, Meek commented on the situation via Instagram before he had all the facts of the shooting.
"Yea they really trying to slow these bags up right? I'm looking at this sh*t and they're talking two people died, two people got shot. A lie. Somebody hating [and] trying to slow these bags up because we scooping up 250s."
However, this comment no longer seems to be on his Instagram page.
Be the first to receive breaking news alerts and more stories like this by subscribing to our mailing list.