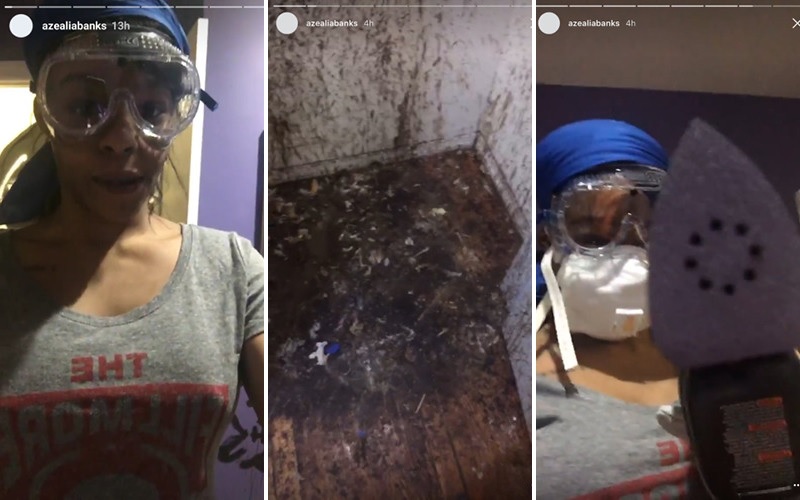 Just when you thought 2016 or Azealia Banks couldn't get any stranger, the rapper hits you with some good old fashioned witchcraft chicken sacrifices. And no, I'm not making this up. This is a real thing that really happened.
Banks caught social media waayy off guard with her latest revelation. The rapper's Friday (Dec. 30) Instagram story showed her cleaning out her blood-stained closest where she apparently has been practicing "brujeria." Or the Spanish word for witchcraft.
"The amount of crap that's about to come off my floor right now guys – oh my God. Three years worth of brujería. Yes, you know I gotta scrape all this sh*t up. I got my sandblaster, my goggles. It's about to go down. Real witches do real things."
Azealia Banks via instagram, cleaning the closet she's been performing brujeria for 3 years in. pic.twitter.com/0OsoSdJynw

— Azealia Banks Videos (@AzealiaVideos) December 30, 2016
Someone clearly didn't tell her American Horror Story: Coven aired in 2013 (three years ago, I may point out) and she is not the Supreme!
It's unknown what animal she was actually sacrificing, but given the feathers, many have suggested the Harlem rapper has been slaughtering chickens in her closet for three years… and not cleaning up the mess. I don't know much about brujeria or animal sacrifices, but wouldn't that leave a smell that most sane people couldn't bear?
Banks' disturbing Instagram Story has since been deleted from her account. However, Twitter definitely had a lot to say.
https://twitter.com/tylerplanet8/status/814840763947294720
https://twitter.com/fauxdeity/status/814692805952077824
We would like to clarify for the record that sacrifice, animal or otherwise, has no part of Satanism. #azealia #azealiabanks

— The Church Of Satan (@ChurchofSatan) December 30, 2016
*Honestly, the Church of Satan's tweet took me out!*
https://twitter.com/chlsymthws/status/814857835012034560
Sacrificing animals for your gain is the wackest shit I've ever heard. Get ahead by being awesome, kind and working hard.

— sia (@Sia) December 30, 2016
you guys really thought 2016 could end any other way than finding out azealia banks been sacrificing chickens in her closet?

— sameflannel (@sameflannel) December 30, 2016
https://twitter.com/datgrit/status/814874413292208128
me finding out why azealia banks is trending pic.twitter.com/JHZjR8qNGL

— sana loves yuri (@taeyeonatic) December 30, 2016
https://twitter.com/TASK1ne/status/814868588179771392
Chickens: *are living*
Azealia Banks pic.twitter.com/GFpKY6ebak

— babyboy@gmail (@fagtwigs) December 30, 2016
Me: I love crystals and full moons. I'm such a witch ??

Azealia Banks: I've been sacrificing chickens for three years

Me: pic.twitter.com/qloSyBzGlX

— FOH Twigs (@stankofa) December 30, 2016
I feel if you're still an azealia banks fan at this point you're more crazy than she is

— jake (@jakeisgreat) December 30, 2016
2016 has been quite interesting for Banks. The rapper found herself shrouded in controversy for racist comments about singer Zayn Malik, a Twitter war with Sarah Palin, bleaching her skin, and getting into a physical altercation with Russell Crowe at his private Beverly Hills dinner party.
I still don't understand why Banks can't just focus on rapping and call it day. She just has to go do/say something crazy for people to pay attention to her. I can only imagine what she has in store for 2017.
Be the first to receive breaking news alerts and more stories like this by subscribing to our mailing list.