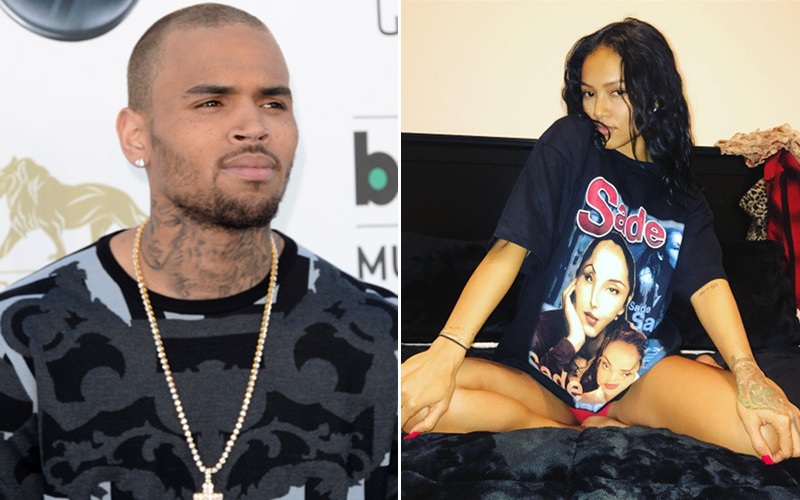 First Rihanna, now Karrueche Tran. Chris Brown never seems able to accept the fact he messed up a relationship and needs to move on. As evident by a recent Instagram comment, the singer wants to get back with his ex, Karrueche.
Karrueche posted a photo on Instagram of herself wearing only a Sade t-shirt and red panties on Monday (Dec. 26). Chris couldn't help but notice the sultry pic and decided to comment. "Still want it," he wrote, along with an eyeball emoji.
The not-so-subtle flirting comes just days after Chris seemingly confirmed his relationship with model Krista Santiago. The two have been rumored to be dating for months, but have not gone public.
So, is Santiago just a side piece until he wins Karrueche back? Is he just using her to make Kae jealous? An insider exclusively revealed to Hollywood Life what Brown's comment on Karrueche's Instagram really meant.
"That was just Chris' way of apologizing to Karrueche for all the horrible sh*t he put her through. Lying to her. Blasting her on social media. It's Christmas. He had time to reflect and realized that things would have been drastically different between them had he kept it 100."
The source added that Chris just wants to be friends with Karrueche, as with all of his exes.
"Yeah, he still wants her in his life. Men have feelings too. He thinks about her from time to time, hopes she's well and all. He's open to being friends with her. Real talk, Karrueche always got him. She understood him and always made him feel special and he misses that.

Chris is also mad clingy. To this day he keeps in contact with all of his exes. His ego and sheer cockiness just can't let them go."
Yeah, you can call it "clingy," I call it controlling and intimidating.
Meanwhile, another source tells Hollywood Life Chris has been trying to smooth things over with Santiago since his "still want it" comment to Karrueche.
"Breezy's already running major game on Krista, telling her he doesn't feel Karrueche in a romantic way and that he was just playing around when he commented on her page. He told Krista she's his main, the face of Black Pyramid and that he only wants her.

Krista's all in too because Chris reassured her she ain't got sh** to worry about when it comes to Kae. And to smooth things over, he ordered her a fly and expensive pair of designer heels to show her that she's the one."
Because we all know material things is the way to a successful relationship, not, you know, actually being a decent/kind/caring/respectful boyfriend.
Karrueche has not commented on Chris' attempt to holla at her. Cast in an upcoming TNT dramedy, she recently told Good Day New York that she has no time for boys.
"I'm in a place right now where I'm so happy, I'm so focused on myself and my career. I have so much going on… I'm worried about myself. I can't worry about boys right now."
Be the first to receive breaking news alerts and more stories like this by subscribing to our mailing list.