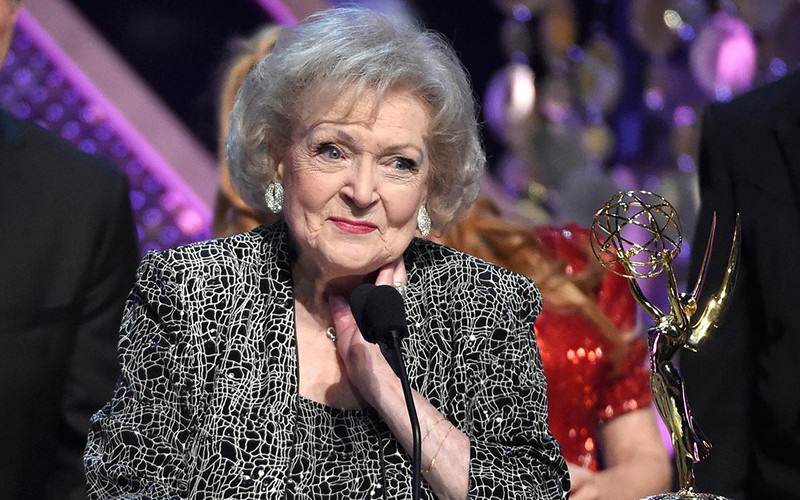 In a year that took away icons like David Bowie, Prince, Maurice White, Phife Dawg, Muhammad Ali, and most recently George Michael, Ricky Harris and Carrie Fisher, people are just ready to see the year of death go and never come back.
With just a few days of 2016 left, it's time to protect some of our beloved living icons. And who better to start with than Betty White?
Following news of original Princess Leia actress Carrie Fisher's death, South Carolina resident Demetrios Hrysikos started a GoFundMe page on Tuesday (Dec. 27) to help keep living legend White safe until New Year's Day.
"Help 2016 catch these hands if it goes anywhere near Betty White! If she's okay with it I will fly to where ever Betty White is and keep her safe till Jan. 1, 2017."
Hrysikos has already surpassed his intended $2,000 goal. As of the writing of this post, $2,576 has been raised. If White does not need/want his protection, Hrysikos will donate all the proceeds to a local children's theater company, Spartanburg Little Theater.
White, 94, has had successful career for over 75 years. She is best known for her Emmy Award winning role as lovable Rose Nylund on the 80's sitcom, The Golden Girls. However, she has had a career resurgence within the past several years, even hosting SNL.
Betty White began trending on Twitter soon after Fisher's death was confirmed. Many feared she was 2016's latest casualty, but in actuality, it was due to people wanting to keep her safe at least until 2017 arrives.
When you hear that Carrie Fisher died and then you also see Betty White trending pic.twitter.com/MZshIs5F7N

— Owen Ellis (@_owen_ellis) December 27, 2016
If 2016 takes Betty White. You guys know what we have to do, right?!? pic.twitter.com/KN3kTRlUn8

— youtube/Alonzo (@alonzolerone) December 27, 2016
SOMEONE PLEASE MAKE SURE THAT BETTY WHITE IS SAFE AND INDOORS HUNKERED DOWN UNTIL 2017

— kyyyyyle (@kyyyyyleID) December 27, 2016
Betty White hit the dab earlier this year. She definitely gonna make it to 2017.pic.twitter.com/0TS7If1T5n

— Erick Fernandez (@ErickFernandez) December 27, 2016
When Betty White is trending, and 2016 has four days to go pic.twitter.com/b9SUKCjlUZ

— Meha Ahmad (@Meha) December 27, 2016
I vote we put Betty White and Morgan Freeman in a safe house with a doctor there at all times for the next 4 days..

— josh (@JoshKalka) December 27, 2016
Saw that Betty White was trending. She's not dead. Just people are talking about her. pic.twitter.com/6y35Y1zvnm

— Sir_Stride (@sir_stride) December 27, 2016
2016 TOOK EVERYBODY. WE GOT TO PROTECT TINA TURNER, MORGAN FREEMAN, BETTY WHITE, CICELY TYSON, AND JAMES EARL JONES AT ALL COSTS.

— MVH (@123itsmeMary) December 27, 2016
https://twitter.com/jordansdiamonds/status/813813640436523009
Me protecting Betty White from 2016: pic.twitter.com/N2xkrKLCta

— Orlando ??? (@TeamLando) December 27, 2016
Other celebs we've lost in 2016 include: Alan Rickman, Abe Vigoda, Harper Lee, Nancy Reagan, Gary Shandling, Patty Duke, Doris Roberts, Afeni Shakur, Morley Safer, Elie Wiesel, Gene Wilder, Arnold Palmer, Janet Reno, Leonard Cohen, Gwen Ifill, Sharon Jones, Florence Henderson, John Glenn, Alan Thicke, and Zsa Zsa Gabor.
Be the first to receive breaking news alerts and more stories like this by subscribing to our mailing list.