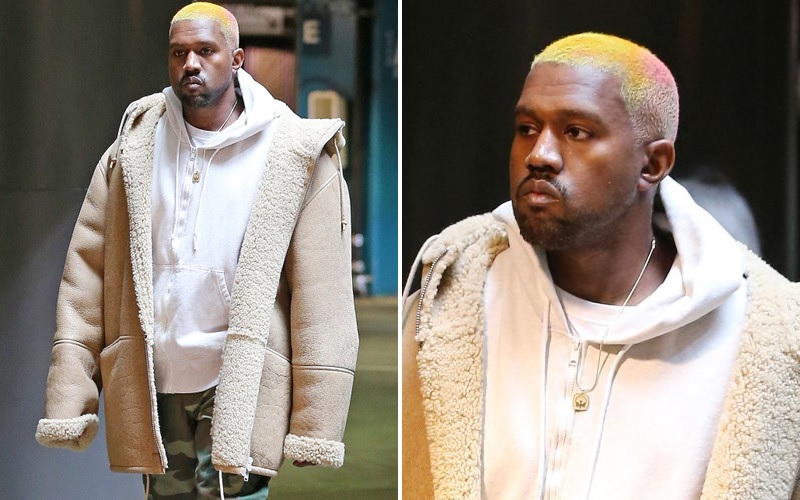 Since being released from the hospital, Kanye West has reportedly been receiving outpatient treatment and seeing a therapist daily. But, is the rapper getting any better? Given his latest fashion statement, the jury is still out.
The rapper seems be going for a new look for 2017. On Monday (Dec. 26), West debuted a fresh new hairdo that got everybody scratching their heads and cracking jokes. West was spotted heading into an LA movie theater by himself sporting a sherbet-inspired 'do.
Kanye West's hair is now the color of rainbow sherbet https://t.co/VzS5L4d8DD pic.twitter.com/X9rd5CGFMi

— GQ Magazine (@GQMagazine) December 27, 2016
West dyed his hair platinum blond earlier this month after being released from the hospital. However, he has since added hints of yellow and pink.
There was no way social media wasn't going to chime in to give humorous/shady commentary.
Hair stylist: how can I help u today?

Kanye West: u ever have rainbow sherbet?

Hair stylist: say no more pic.twitter.com/eZlm0IZJ1d

— Katie Corvino (@kTc0rvin0) December 27, 2016
Kanye West out here looking like Dennis Rodman ?? pic.twitter.com/ZaA58hihzG

— Ponce ?? (@PonceDeLeioun) December 26, 2016
He lookin like he wants Amber Rose's attention so bad

?? "Kanye West added something extra to his hair ?"https://t.co/cA51ECGG6E

— Tony (@TonyTheTigrrr01) December 27, 2016
Every time I see Kanye. He reminds me of this episode of Fresh Prince. pic.twitter.com/pXQvEd34mN

— aliyah j.??? (@excusemelee_) December 27, 2016
Look it's fucking Kanye Shady ?? "Kanye West added something extra to his hair ?"https://t.co/1MaMSfTx0v

— St.Kringle(??????)Stockings (@jason_emmons) December 27, 2016
https://twitter.com/kentsuarezskye/status/813759786936311809
https://twitter.com/Kristinapril93/status/813890100425854976
What if Kanye West was blond this entire time and dyed his hair dark all his life to hide the fact that he's actually Donald Trump's son

— Blizz (@uncleancasuals) December 27, 2016
Someone tell me why Kanye Wests new hair is inspired by Rihanna's outfit pic.twitter.com/kfsGIK1w7D

— Romy (@badg4lrihanna) December 26, 2016
https://twitter.com/WorldDamian/status/813568266228662272
@kanyewest looking like @wesleysnipes character in Demolition Man pic.twitter.com/d26cXmINQY

— byron pineiro (@Byron_Pineiro) December 27, 2016

West has made several appearances since the "temporary psychosis" that lead to his 9-day hospitalization, all sporting the dyed blond hair. He previewed the Rick Owens: Furniture exhibit in West Hollywood, was seen at a movie theater with Kris Jenner's boyfriend Corey Gamble, saw The Nutcracker with Kim Kardashian and North West, and attended the annual Kardashian holiday party.
Most notably, he met with President-elect Donald Trump to discuss "multicultural issues."
All in all, it looks like West is taking his recovery day-by-day. However, this multi-colored hair is another odd choice in a line of questionable decisions/behavior.
Be the first to receive breaking news alerts and more stories like this by subscribing to our mailing list.