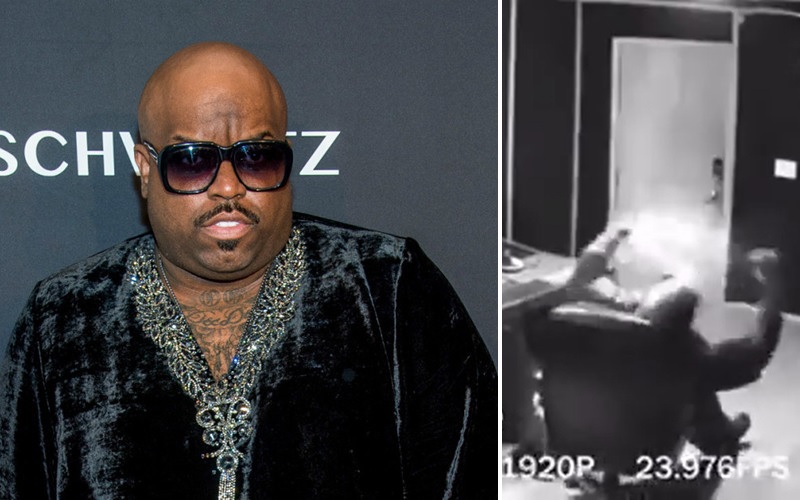 As if Samsung wasn't having enough issues, here comes CeeLo Green.
CeeLo has assured fans that he is "alive and well" following a stunt that left all off social media wondering if the Grammy winning musician was seriously injured. On Saturday (Dec. 17), a video surfaced showing CeeLo talking on a smartphone when it suddenly explodes, causing the singer to fall out of his chair and onto the ground, seemingly unconscious.
10 hours after the video caused a stir on social media, CeeLo addressed the incident on Facebook Live. Turns out, the video was just a publicity stunt for one of CeeLo's upcoming projects, "Gnarly Davidson."
"Hey y'all, listen. I just want to let everybody know that I am alive and I am well and I'm OK. Truthfully, I'm really upset that anybody had to be emotionally disturbed by what they saw today. Actually what you saw today was a clip from a smaller video that we were shooting for a new project that I'm doing called Gnarly Davidson."
Here is the video that caused Twitter (and probably Samsung execs) to freak out.
Samsung has faced heavy criticism over the past several months after Galaxy Note 7 phones began catching fire and exploding. Nearly 2.5 million of the phones have been recalled, and the model has since been discontinued. Along with CeeLo, "Samsung" became a trending topic as many assumed the musician was using a Samsung phone.
CeeLo walking into Samsung's HQ to get that check after he wins his lawsuit! pic.twitter.com/adADbcvgUR

— 9??Blue Ace Boon Coon?? (@AhmedsMagic) December 17, 2016
When you're reading about Ceelo's Samsung blowing up in his face from your Samsung ??

— I Am Your Khaleesi (@TheDejaKing) December 17, 2016
@WORLDSTAR CeeLo Green bout to pull up to Samsung headquarters like this pic.twitter.com/hCZ2JQDqK2

— Jen (@_Theycallmejen_) December 17, 2016
*Watches video of CeeLo Green Samsung explode*
*Hears my Samsung ring* pic.twitter.com/WWaplC1q9f

— Jenna Fisher (@JennaFisherTX) December 17, 2016
That video of Ceelo talking on the phone before it blew up on his face is scary. Leave those Samsung alone!

— Molly Squared (@OriginalDWoods) December 17, 2016

Prior to CeeLo's statement, fans and celebrities expressed concern for the singer, while others were already questioning is validity.
I hope my friend @CeeLoGreen is ok…..sheesh!!!!

— James Poyser (@jamespoyser) December 17, 2016
@CeeLoGreen Sooo manyyyy prayers & light to you brother!!!! I ?? your hearing is ok!!!

— OMARION (@Omarion) December 17, 2016
How can Elon Musk make a car that drives itself, but Samsung can't make a phone that doesn't explode in your face?

— Rob Lowe (@RobLowe) December 17, 2016
@CeeLoGreen I hope and pray you are okay. Just watched a graphic video

— Walter L. Hudson Sr. (@Activist30) December 17, 2016
Dang Pray for Ceelo man his whole phone exploded in his face

— KING NOR ? (@KingNorris__) December 17, 2016
i pray Ceelo is okay.

— Zay ?? (@skinnyzeek) December 17, 2016
https://twitter.com/MUHFUGGINJKELLS/status/810272918760525824
Yo for reals I hope Ceelo Green is ok I really like that guy

— Michael B Jordan B Peterson [HRST] (@Vermontious) December 17, 2016
Is ceelo ok? Was that video real or not? Cause if so, I hope it wasn't as bad as it looked.

— Stephen Williams (@siavm) December 17, 2016
I'm already a "Ceelo Greens phone exploding was a hoax" truther #CeeLo

— Dan (@Dan_Schaef) December 17, 2016
Did Ceelo's phone really explode in his face? That video look FAKED #teamIphone

— DJ Kamoflage (@djkamoflage) December 17, 2016
Despite scaring half of Twitter with his ill-conceived prank, CeeLo says he still intends to release the new Gnarly Davidson music, and most likely the corresponding video.
Be the first to receive breaking news alerts and more stories like this by subscribing to our mailing list.