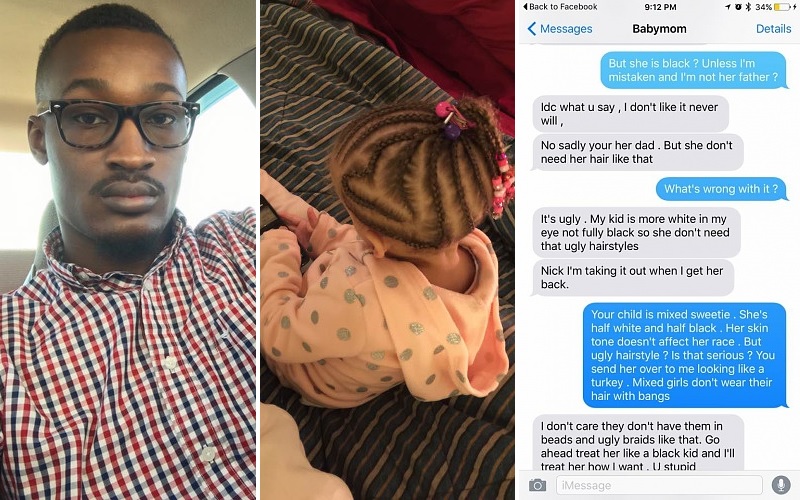 Biracial children often struggle with understanding their identity, particularly in a society that typically only sees "black" or "white." But I'm sure having a blatantly racist parent makes matters even worse. A black dad just put his white baby mama on blast due to her racist comments on their daughter's braids.
While in his care, Nick Harris took his daughter to get her hair done. Harris then sent a picture of the little girl's fresh cornrows to her mother. However, their conversation immediately turned racial as the white mother does not like her daughter having an "ugly black hairstyle."
"It's ugly. My kid is more white in my eye not fully black so she don't need that ugly hairstyle…

[H]er hair is for me. The natural curls. Nick I don't gotta embrace that side of her. This isn't history class."
Harris eventually posted their entire text conversation on his Facebook account, to put the racist woman on blast, and for feedback if he was wrong for embracing his biracial daughter's blackness and hair texture. The post went viral.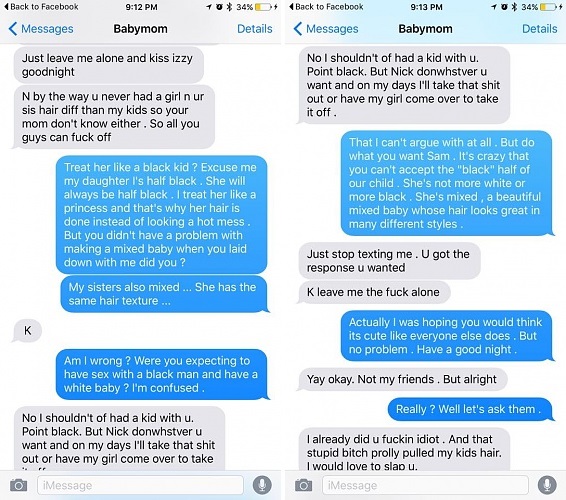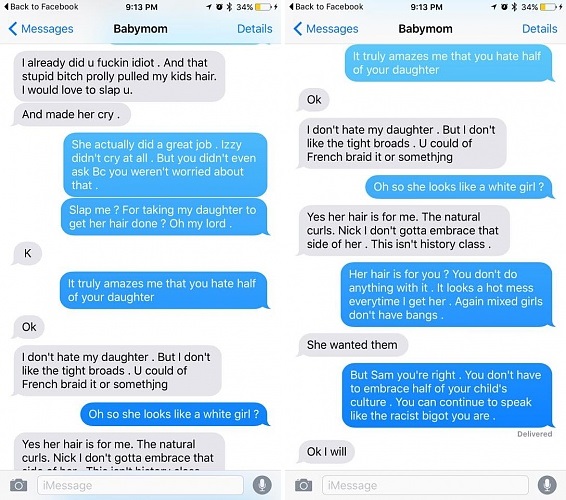 I think we all feel for that child who has to grow up knowing her own mother is racist and will deny her the opportunity to even embrace or understand her blackness.
However, Harris shouldn't have sent the picture of the cornrows in a text message. I would have gotten my child's hair done and then sent her back with the cornrows, and that racist white lady would just have to deal with it.
Harris already knew she had racist opinions and sending that pic would only lead to a disagreement. Why was he even with her in the first place? And now they have a child together, so he's stuck with her for rest his life.
Be the first to receive breaking news alerts and more stories like this by subscribing to our mailing list.