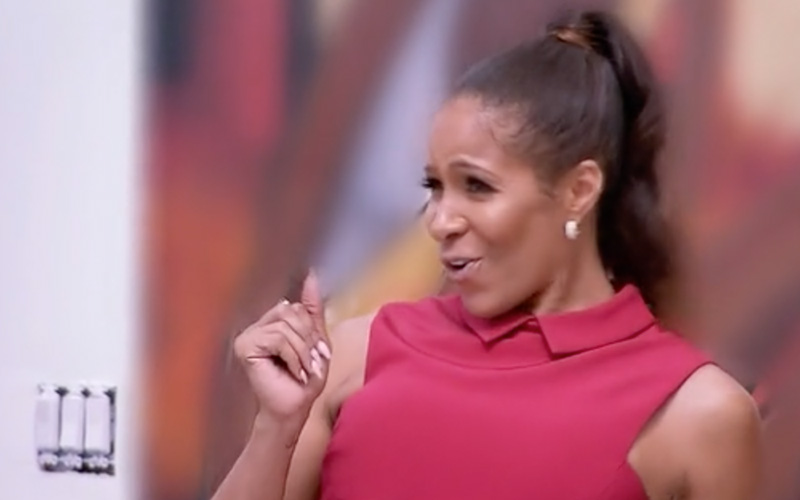 Our favorite shade-throwing Housewives made their official return to TV Sunday night (Nov. 6).
The Season 9 premiere of Real Housewives of Atlanta, titled "House of Shade and Dust," mainly focused on bringing us up to speed on what's been going on in everyone's lives since we last left them.
Kandi and Todd are doting on their new baby boy, Ace Wells Tucker. Porsha is now attending anger management classes. Cynthia is making her divorce from Peter official. Phaedra is in the process of finalizing her divorce from Apollo. And Kenya and Sheree are still throwing shade over the fact that both of their houses, "Moore Manor" and "Chateau Sheree," respectively, are still "under construction."
#RHOA Season 9 forecast is already looking like… pic.twitter.com/lQBPq1awmr

— al•che•MEL•ist ?? ?? (@itsRamel) November 7, 2016
Of course Twitter held NOTHING back as the episode aired, with viewers calling out Kenya for having a housewarming party in a house that's not even finished (There was still contrucution equipment all over the house!), and Twitter as a whole basically LIVED for the shade Sheree threw at her, as well as the moment when Porsha crashed Kenya's party.
Below, we have rounded up some of the best/funniest Tweets, jokes and memes from Real Housewives of Atlanta Season 9 Episode 1. Be prepared to ROFL.
People who live in glass houses shouldn't throw stones. And people with unfinished houses shouldn't throw housewarming parties:
Why anyone would host a Housewarming party in a Construction Zone is beyond me #RHOA

— Gaga's ShoesRule (@myfeetonfleek) November 7, 2016
https://twitter.com/Just_Tonya1/status/795437971256250368
How is Kenya having a housewarming in an incomplete house? They poured the driveway YESTERDAY? #RHOA pic.twitter.com/lb15NH51Z0

— Hassan Sayyed (@HausUrban) November 7, 2016
"Kenya…it's some Sheetrock in my potato salad."#RHOA pic.twitter.com/V9r1FmeWRV

— ??KENDO? (@Ken__Possible) November 7, 2016
https://twitter.com/koatnay/status/795437843896291328
https://twitter.com/inomallday/status/795433554046025732
https://twitter.com/chris_clermont/status/795435904743702528
On Porsha "crashing" Kenya's housewarming party and showing up as Phaedra's "plus one":
Sharee: Is Porsha Coming? Kenya: No I just I just wanna be safe Porsha: #RHOA pic.twitter.com/o2z6eKfq5q

— MelaninGawd (@bryboi21) November 7, 2016
Porsha is showing up this housewarming like…. #RHOA pic.twitter.com/JDo1kbkLe9

— Bald Head Ass Bitch. ?? (@StevieSoFetch_) November 7, 2016
Kenya scared of Porsha cuz ain't nothing but space and opportunity in that empty ass house

— new or leans very own. (@_crownxroyal) November 7, 2016
https://twitter.com/tlovejones/status/795444447643402241
https://twitter.com/fivesixtyeight/status/795444847779803136
Kenya said she didn't invite Porsha because she wanted to be safe in her own home. But the gag is Porsha is on her way … Uninvited? #RHOA

— Afro Barbie ? (@tootallthemodel) November 7, 2016
Me watching drama unfold ??#RHOA #WWHL pic.twitter.com/puYiGN4vIq

— #TheRealityGOD ?? (@shadybootsandy) November 7, 2016
On Kenya Moore's shade-throwing and her "rental" boyfriend Matt Jordan (who decided to "crash" her housewarming party like Porsha):
I want us all to take note of all these shots Kenya is taking in episode ONE for when she starts playing victim at the reunion. #RHOA

— Cinderfella. (@xMurderCWrote) November 7, 2016
I can't even judge Porsha…Kenya will make you want to knock her ass out, she starts stuff then plays the victim when shit gets real #RHOA

— Bri (@blueskyy37) November 7, 2016
Kenya: "Matt and I were together a little under a year." *Contract up???#RHOA

— Gaga's ShoesRule (@myfeetonfleek) November 7, 2016
Kenya said I didn't invite prosha cuz I wanted to feel safe..Then hear comes Matt walking… Girl bye ? #RHOA

— Nicole (@LovingGodAFamiy) November 7, 2016
https://twitter.com/crystaaalSG/status/795493933971161088
Kenya said I didn't invite prosha cuz I wanted to feel safe..Then hear comes Matt walking… Girl bye ? #RHOA

— Nicole (@LovingGodAFamiy) November 7, 2016
#RHOA Matt showed up cuz Kenya invited him. Like w/ a time and date. Girl don't act like it's a driveby??

— BestIsYetToCome (@HMR812) November 7, 2016
On how beautiful Chateau Sheree is and how Moore Manor pales in comparison:
I am 100% here for Sheree being back on #RHOA

— Ray Cunningham (@MissterRay) November 7, 2016
Sheree's house is beautiful!!!!! #RHOA

— Kevin Simmons (@TheSkorpion) November 7, 2016
https://twitter.com/luvMechie/status/795432893925457921
It took Sheree 5 years to build her home, and every minute was worth it. #RHOA

— Brandi Webb (@Regine__Hunter) November 7, 2016
https://twitter.com/Jade_Ashley94/status/795434201185185792
On Cynthia and Peter's failing marriage:
Of course you don't want alimony Cynthia, Peter ain't got no money to give lol #RHOA

— Ray Cunningham (@MissterRay) November 7, 2016
Chile, we knew Cynthia & Peter wasn't going to last when her mama & sister hid their marriage license #RHOA

— Where Is Yo Scoota? Where Is It?! (@AshleyShyMiller) November 7, 2016
Cynthia said there's been no infidelity in the relationship lmao she's in some serious denial. EVERYBODY KNOW PETER ASS A DAMN CHEATER.

— SUBURBAN DUDE (@BougieVyntage) November 7, 2016
https://twitter.com/missjia/status/795440916286869505
This Cynthia and Peter facetime is awkward ? #RHOA

— Randy Haas (@Randy_Haas) November 7, 2016
https://twitter.com/_concrete_ROSE1/status/795436464603598848
Cynthia: I'm here to get a divorce…
Meachum: from who…… Peter?

This lawyer is very astute!! #RHOA pic.twitter.com/hJPBNgno2R

— ArrozChicken Podcast (@ArrozChicken) November 7, 2016
Porsha's face without makeup vs. Kenya's face without makeup:
In her confessional interview, Kenya said something was "scary, like Porsha's face without makeup." Of course Twitter went IN on Kenya and her "oatmeal pie face."
Kenya with the first set of shade ?? … porsha look better than you with or without makeup boo #RHOA

— Simone (@AllBri_) November 7, 2016
Wait. .Kenya want to talk about someone without makeup???? Porsha is still gorgeous without it. #RHOA

— LYNNE81 (@jennlynn0781) November 7, 2016
Porsha w|o makeup vs. Kenya w| makeup ?? SO WHAT YOU SAYIN #RHOA pic.twitter.com/XrLZp6fbxh

— terrapooh. (@ColorMeTrillest) November 7, 2016
Porsha looks beautiful with or without make up. Let's be very clear #RHOA @Porsha4real @KenyaMoore pic.twitter.com/Dkwxel04PO

— CHRIS HAKEEM ? (@flyyboi22) November 7, 2016
On Porsha and her anger management therapy:
https://twitter.com/sabrinalucas528/status/795438283144785921
They poke and poke at Porsha and then label her angry because she responds to their BS in a way that's unfavorable to them. #RHOA

— Shannon Joseph (@smichawnjoseph) November 7, 2016
so bravo made porsha get anger management to stay on the show. got it #RHOA

— MimosaMami (@ashrae720) November 7, 2016
Anger management ? Porsha is just doing this to stay on the show. #RHOA

— Brittney Bacardi (@BeeMichelle) November 7, 2016
Porsha girl you know Bravo forced you to go to anger management classes #RHOA

— Flewed Out (@ABC_1990) November 7, 2016
Why is Porsha all dressed up to go to anger management? It's therapy, not the Emmys. #RHOA

— M.J. (@mjgazord) November 7, 2016