Of all the celebrities, Jazmine Sullivan is probably the last person you would expect Twitter to drag. Unfortunately, that day came as the singer made the poor decision to post an extremely strange eulogy for Thomas "TC" Clay that primarily focused on how she curved the late gospel singer for a year.
TC passed away from a still-unknown cause Saturday (Oct. 15) and was found in his New York hotel room. Sullivan took to her own Facebook account on Wednesday (Oct. 19) to remember him as the guy that was "bothering" her for a year who she replied to "maybe 3 times." She even went as far to say, "I know u still gotta crush on me in heaven." To make matters worse, she ended the post with a picture of herself looking "sad."
Though Sullivan has since deleted the insensitive and self-centered post, here is a screenshot of her full statement: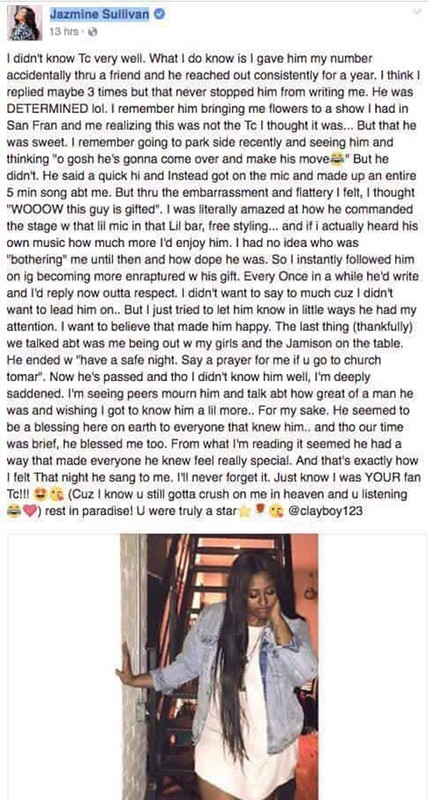 Twitter immediately began dragging Sullivan online, which caused her to become a trending topic and also prompted the Grammy-nominated singer to delete her post.
"Well, I'm dead. But at least nothing and nobody can embarrass me now."

Jazmine Sullivan: pic.twitter.com/vlOR3cD1CC

— Michael? (@michaelcollado) October 19, 2016
"It's unfortunate that you died, but what's even more unfortunate was the fact that I wasn't finished curving you" – Jazmine Sullivan

— Arron Fornasetti (@arronfornasetti) October 19, 2016
Jazmine Sullivan out here curving dudes from beyond the grave. I can't.

— NUFF (@nuffsaidny) October 19, 2016
Jazmine Sullivan will go to your funeral, take a selfie w/your casket in the background & tell everyone you photobombed her

— Idris Elbruh (@CapitalSS) October 19, 2016
https://twitter.com/RealLifeKaz/status/788724682967121920
I wanna know what prompted Jazmine Sullivan to write that long ass IG post about the deceased tryna holla at her. Like… no sis. ??

— Jai. ? (@theeJAISTER) October 19, 2016
https://twitter.com/ILLCapitano94/status/788725510767570944
I never thought you could be a bird and a headass simultaneously but then there's Jazmine Sullivan. My God

— New or Lean Wit It Rock Wit It (@DrTGIF) October 19, 2016
That Jazmine Sullivan "eulogy" is quite possibly, the worst thing I've ever read. Wow.

— NIGris Elba (@hosienation) October 19, 2016
Well at least I'm dead in heaven and can't get curved
Jazmine Sullivan: pic.twitter.com/d72n9stNBy

— Nikon Papi ?? (@_______manny) October 19, 2016
Jazmine Sullivan drafted a dreadful sonnet on how badly she wanted to FRIENDZONE the shit out of that deceased dude.. wow

— MBDTF (@Cloud10LV) October 19, 2016
Jazmine Sullivan is a bird lmao not "I know you still got a crush on me in heaven" ..girl HUH pic.twitter.com/Njba5M7MoB

— Problematic Pisces????? (@enimsahJ__x) October 19, 2016
It's clear that Jazmine Sullivan did not have the best experience with TC. So, what exactly was the point of this post? I hate saying what celebs should or shouldn't do, but in this particular situation, a simple "Rest in peace" or "RIP" would have been the most appropriate acknowledgment of his passing. Better yet, she could have not posted anything at all. Both options would have spared her from the current Twitter dragging.
Be the first to receive breaking news alerts and more stories like this by subscribing to our mailing list.