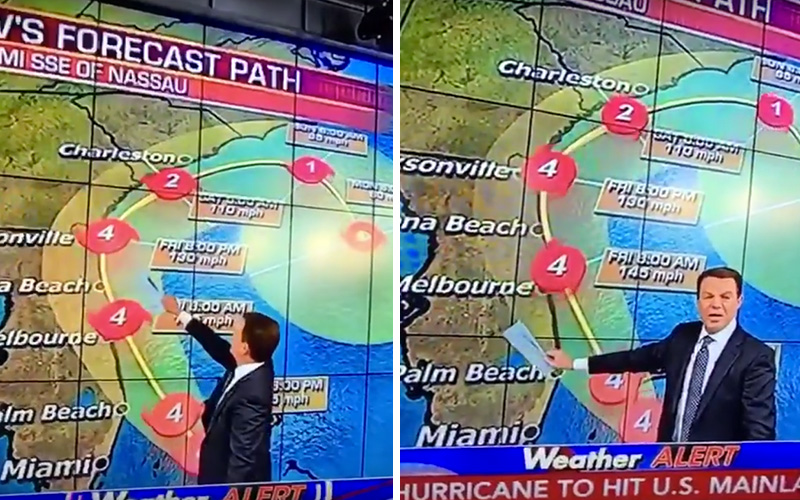 Hurricane Matthew is currently wreaking havoc on Florida as it slowly makes its turn north towards Georgia and South Carolina. The Category 4 hurricane is one of the biggest to strike the East Coast in years, and as a result, governors across the states are urging citizens to evacuate to safer areas.
Shep Smith, a Fox News anchor, tried to help convince any lingerers that they should heed their governments' advice and get out of dodge. And while he's right, it's the manner in which he did it that is raising some eyebrows.
"This moves 20 miles to the west, and you and everyone you know are dead – all of you – because you can't survive," he said on his show Thursday afternoon (Oct. 6). "It's not possible unless you're very, very lucky… And your kids die too."
He even took it a step further when spoke with one Florida woman who didn't want to leave her home, saying, "I'll ask her why she's staying and if she expects us to cover her funeral."
Shep spoke to a friend in Palm Beach Gardens, Florida, who says she's staying put during #HurricaneMatthew https://t.co/ppshqSi3LF

— Shepard Smith (@ShepNewsTeam) October 6, 2016
Again, the advice is sound. Hundreds were killed as Matthew hit Haiti, and it only regained steam before crashing into Florida. But there was no reason for ole Shep to go all Sarah Connor on live TV.
Be the first to receive breaking news alerts and more stories like this by subscribing to our mailing list.