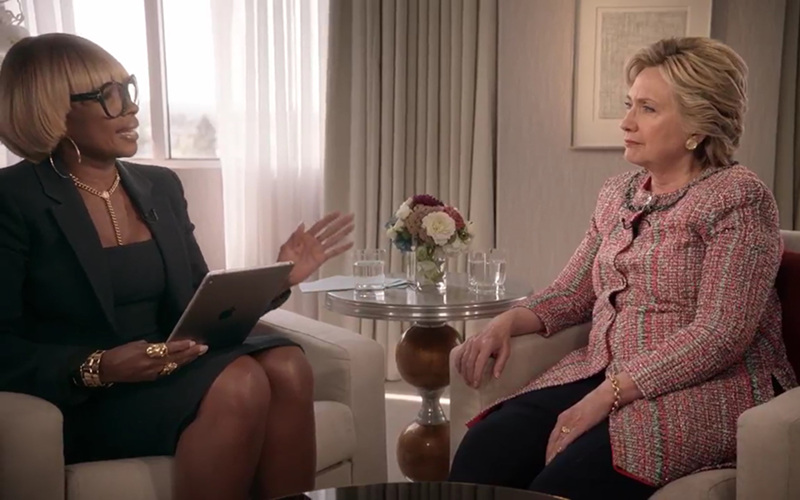 I guess nobody told Mary J. Blige what social media does best. Though whoever produced the one-minute promo in question should have seen it coming, the singer definitely does not like being the butt of Twitter jokes and memes
Twitter clowned Auntie Mary after a promo for her upcoming Apple Music show, The 411, was released. The cringe-worthy clip shows Blige singing Bruce Springsteen's "American Skin" to Hillary Clinton. The awkward moment was supposed to address the serious topic of police brutality, but ended up causing laughter and confusion instead.
Like you've never seen them before.@MaryJBlige sits down with @HillaryClinton.#The411
Coming September 30th.https://t.co/hbaWqfjJcp pic.twitter.com/P2qpm3h3Pm

— Apple Music (@AppleMusic) September 27, 2016
But while we were all asking WTF, Blige was telling us to STFU. The singer took to her own Twitter account to address the criticism.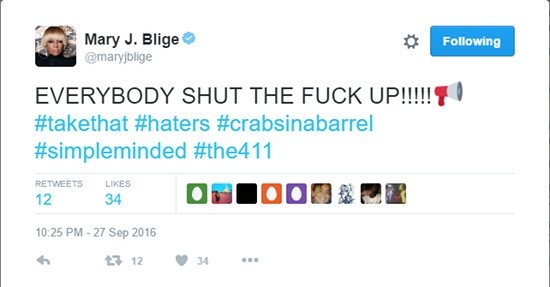 She deleted the tweet, decided to post it again, and then deleted it once more. I can just imagine her frown underneath those Edna Mode (from The Incredibles) bangs as her Twitter fingers go to work typing and deleting!
they got mary j. blige out here looking like homegirl off the incredibles pic.twitter.com/w7BGFZfmwD

— MAMA AFRICA (@thatgirlsalina) September 27, 2016
Though Blige would very much like us to leave her alone, let's get a few more laughs. I mean, even Hillary looked perplexed at what was going on!
"what will you do to fix the national epidemic of hateration in this dancerie?" pic.twitter.com/jVDy3eJBCP

— doreen st. félix (@dstfelix) September 27, 2016
Manager: Mary you know your interview with Hillary Clinton is next week, what are you gonna do?

Mary: I'm gonna sing pic.twitter.com/4FF8jJgXkO

— Your Fave (@PartitionBeat) September 27, 2016
"I, too, am a lover and a Secretary working every day of the week" pic.twitter.com/UH9jYGJ1fR

— Hannah Giorgis (@ethiopienne) September 27, 2016
https://twitter.com/robinthede/status/780633315896328192
Thanks for the laughs, Auntie Mary! The premiere of The 411 and Blige's full interview with Hillary Clinton will be available on Apple Music September 30th.
Be the first to receive breaking news alerts and more stories like this by subscribing to our mailing list.