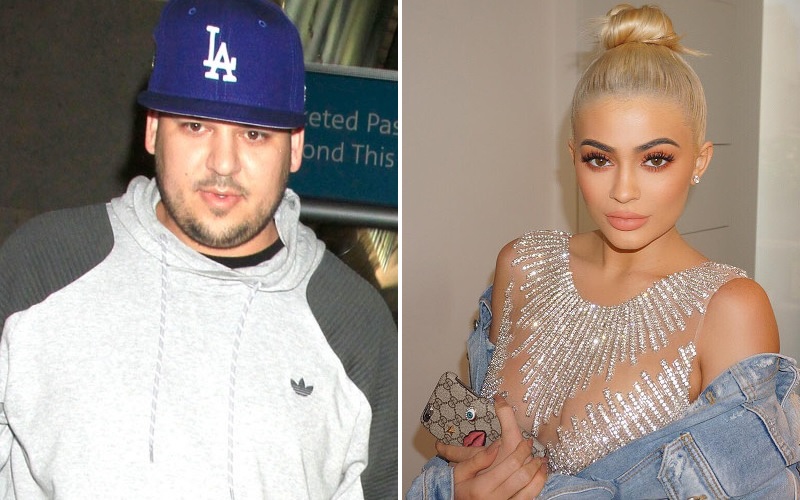 We've always known Rob Kardashian was the black sheep of his ridiculously famous family. However, the man has no problem being a savage. Rob is not happy with his family right now, particularly Kylie Jenner, so in revenge, he tweeted out his little sister's phone number.
Monday night (Sept. 26) Rob wasn't playing any games after he felt his family did him and his fiancée/baby mama, Blac Chyna, wrong. He tweeted out Kylie's real phone number, not once, but twice, and assured his 6.5 million followers that he was not hacked.
8184825859

— ROBERT KARDASHIAN (@robkardashian) September 27, 2016
https://twitter.com/robkardashian/status/780589070556631040
Apparently, Rob was upset that his sisters had planned a baby shower for him, but did not invite Chyna.
Didn't invite the Mother of my child to a baby shower you all were trying to throw for me ??? You all must have lost your damn minds ,,,??

— ROBERT KARDASHIAN (@robkardashian) September 27, 2016
Chyna has bad history with the Kardashian/Jenner clan. She was previously engaged to Kylie's current boyfriend Tyga. They also share a 3-year-old son together. Chyna has had a steady frenemy relationship with Kylie and is not particularly liked by Khloe Kardashian or Rob's mom, Kris Jenner. However, they have all recently tried to make peace for the sake of Rob's first child and his overall happiness.
There are a few stories of what actually went down and caused Rob's outburst. Sources have revealed that there were two showers planned: one for Chyna and one for Rob. Chyna even confirmed on Snapchat that her shower would take place on Sunday (Sept. 25).
Allegedly, Rob's sisters decided to throw separate showers because of Rob and Chyna's currently strained relationship. (TMZ reports the two have not spoken much in recent months and only briefly reunited for the premiere of their reality show.) Chyna supposedly even agreed two showers would be best.
Sources say Rob either flipped out because he didn't know about the separate showers or because Chyna wasn't allowed to go to the one specifically being thrown for him.
E! News reports:
As for a second "DILF" shower planned in Rob's honor, the source says Chyna was going to go in Rob's place and that's where the bickering began. "Rob couldn't attend, so Chyna was going to attend and Kim [Kardashian] said if Rob didn't go, then Chyna couldn't go. It sounds like that's what caused the argument."
I should also note that Chyna said her shower had been "in the works for a while now" and was being thrown by her friends. So that definitely doesn't sound like any of Rob's sisters to me.
As of now, Rob's tweets regarding the situation and Kylie's number are still posted, though Kylie's number has been disconnected and changed. It's the clear the rift between Rob and his family is only growing.
Be the first to receive breaking news alerts and more stories like this by subscribing to our mailing list.