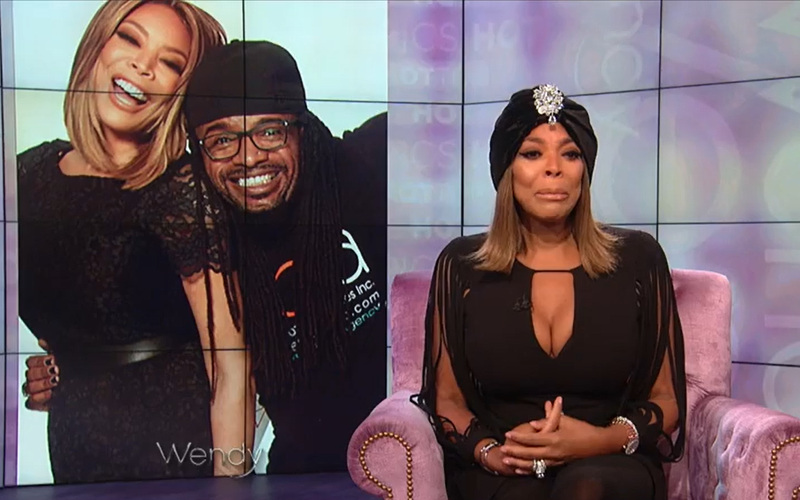 With a refreshed set (and a few behind-the-scenes changes), The Wendy Williams Show has returned to kick of its 8th season. Though Wendy Williams was back to throwing shade and spilling tea, a somber tone loomed over the popular "Hot Topics" segment as the host paid tribute to her beloved "wigologist" Antwon Jackson.
Williams burst through her double doors with excitement after a two-and-a-half month hiatus. However, she was noticeably wearing a black blinged-out turban covering a short, simple wig. "I'll explain the turban later," she said. However, you could already assume it had something to do with Jackson's passing.
Nevertheless, Williams charged on with "Hot Topics" as we patiently waited to see how she would address the shocking death of her beloved hairstylist. Closing the segment, she recounted how she was getting her eyebrows plucked when she got the dreaded call. "What! Antwon?!" as she begins to cry. "The reason I am wearing my turban is because I am wigless."
Williams explains Jackson was one of her closest confidants. She not only had a special connection with him, but Jackson was close to her son, husband, and was beloved by the Wendy crew. "I will miss you dearly, Antwon," Williams said as she presented a touching video tribute for her friend.
Jackson passed away suddenly on August 22nd at the age of 44. A cause of death has still not been released to the public, however, it has been intimated he battled lupus. He was survived by a 25-year-old son, DeAnte Jackson, and a fiancé.
His fiancé, Dontay Savoy, also a hairstylist featured on WE's reality show, L.A. Hair, posted a heartfelt tribute on his Instagram page shortly after Jackson's death.
@antwonljackson I could fight him so bad right now. The best man EVER!!! Missin you so much! Numb. Thank you for all of your love. I love you.
The man Williams affectionately called "Wig" will certainly be missed by any fan of the talk show and its after show YouTube series. Williams' tribute was the perfect sendoff. There will never be another "wigologist" like him. RIP Antwon!
Be the first to receive breaking news alerts and more stories like this by subscribing to our mailing list.