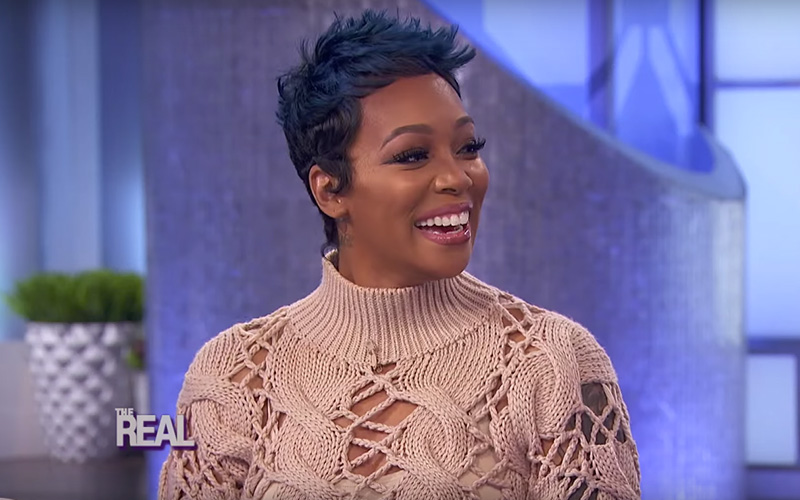 Brandy's petty side has been showing for few minutes now. A lot of her unnecessary shade has been thrown at Monica. Most recently, she shot down a fan who asked if she'd participate in the popular #SoGoneChallenge with a rude, "Chile, bye!" However, the ever-glowing Monica remains unbothered.
During the season three premiere of The Real, co-host Loni Love brought up Brandy (who has also appeared on the talk show). The "So Gone" singer addressed her 1998 & 2012 duet partner's shade in the classiest way possible.
"I'm not bothered at all. This is what I always say, honestly. The 'old me' and the 'new me' are two different things. This journey of self-progression and self-love and empowerment that I'm on — I can't go backwards. I think that was just a test from God for me. I've always thought that she was one of the most legendary people and has one of the most amazing voices — and her runs and riffs.

"I think that some of it's been blown out of proportion to a degree, but I can't tell my kids to do something that I can't do. It was just a test for me to always take the high road and know that in anything that's meant for you in this life, if it's meant for you it's yours.

"Nobody can stop it or stand in the way of it. So, I wasn't bothered at all!"
I don't think anyone can deny Brandy's vocals (except regular people on an NYC subway), but Monica definitely took the high road on this one. She rose above the situation when it could have been the perfect time to fight petty with petty. This is an example we all could benefit from and I also hope another Monica stan shows the clip to Brandy.
She was also asked if she would ever work with Brandy again. Monica, again, gave a shocking, yet classy, response.
"I would work with her again, because… I mean… it's never been an easy situation. But, the reason I would do it is because we are from a special elite group. It was her, Aaliyah, and myself. And it was a very special time where each of us were individuals, we did our own

And the truth and reality is that the only Grammy either of us has is together. So, that to me says something special. So yeah, I absolutely would."
The two won a Grammy for their 1998 classic, "The Boy is Mine," and reunited for "It All Belongs to Me" in 2012.
It's clear there's no love lost between the two (at least as far as Monica is concerned) but, unfortunately, Brandy doesn't know how to stop being a "Petty Betty." At least we have Monica to teach us better.
Be the first to receive breaking news alerts and more stories like this by subscribing to our mailing list.