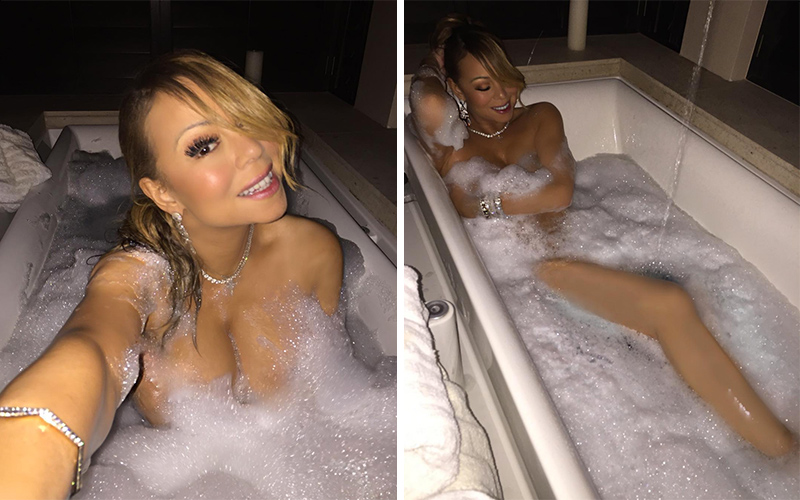 I know Mariah Carey is emotionally stunted, but at some point, shouldn't a mother of two over the age of 40 act like someone with common sense?
In an ongoing bid to keep up with the Kardashians, Beyoncés and Rihannas, Mariah Carey felt the need to remind that world that she's got a bangin' body.
Because none of us have noticed said body, despite her putting it on display at nearly every opportunity she could since she broke free of Tommy Mottola over the past 20 years.
The good news is that the first photo at least confirmed the pending arrival of new music:
https://www.instagram.com/p/BKIZ8yWhGji/?taken-by=mariahcarey
Just got home after a long night at the studio!!!!! New music coming soon yayyyyyy
The second, more risqué, exposes Mariah's entire breast except the nipple.
https://www.instagram.com/p/BKIbqzsBBts/?taken-by=mariahcarey
It's not the first time Mariah's gone for a dip in front of the camera. If you'll recall back in the MTV Cribs days, Mariah famously slipped into the bathtub in front of the cameras back in 2002. But back then, she at least had the decency to do so with a towel on.
If this is just a pathetic attempt to get Nick wantin' that old thing back, then Mariah should spare us all and just Snapchat him that pussy. All of this hoing and thirst trap behavior on Instagram is just too damn for much someone of her age and stature.
Love yourself, Mimi!
Be the first to receive breaking news alerts and more stories like this by subscribing to our mailing list.