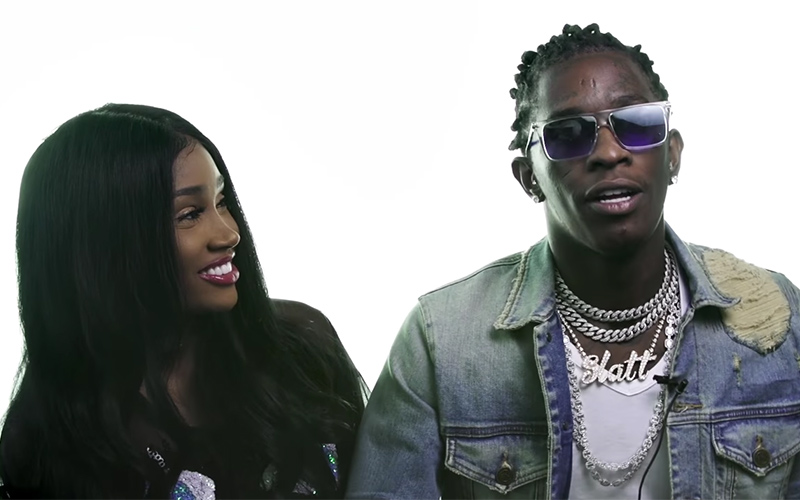 In the "I'm Different" Olympics, Young Thug aka Jeffrey is taking home the gold medal all day, every day.
If the cover of his latest mixtape, in which he was wearing a frilly dress, wasn't enough of an eyebrow-raiser, then news that Thugger put forth in an on-camera interview with his fiancée, Jerrika, that he "doesn't care for sex" just might.
The two sat down for a quick interview with the VFiles, and as they were recounting the evolution of their relationship, Thug admitted that he and Jerrika didn't sleep together for the first six months of his relationship with her.
He claims that wasn't due to any specific bout of morality, but because he wasn't that into it.
"I don't care for sex that much. I never asked to have sex with her, never ever. Our very first time having…doing grown stuff, she did it. She pulled me in the room," said Thug.
Watch the interview with Jerrika and Young Thug below.
So here's the deal. I'm not sure I believe Thugger too much when he says he doesn't like sex that much. At the tender age of 26, he has six children by four different women. That feat took a whole lot of bumpin' and grindin', which is odd for someone who claims to not be that into it.
What's more likely is that Young Thug learned early on that he could garner attention and press by saying and doing things that were considered "weird," so he built up this character and is sticking to it. (Think: method acting.) Which, kudos to him, cause it works every time.
The other, more popular theory, might be that Young Thug is a closeted homosexual or bisexual man a la boxer Yusaf Mack, who also produced many children with multiple women only to later admit that he liked sexing men after a gay porn he starred in surfaced on the web.
Whatever the source of this queer behavior is, we'll be ready and waiting to tune into the next twist and turn in the Young Thug saga.
Be the first to receive breaking news alerts and more stories like this by subscribing to our mailing list.