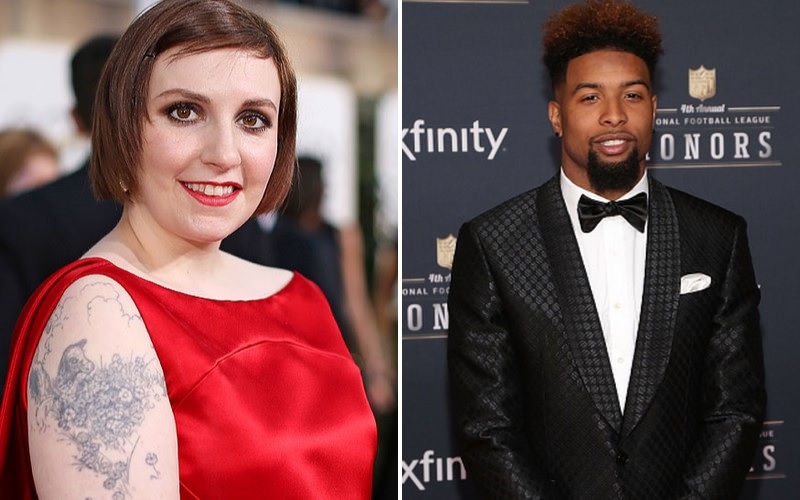 After "valid criticism," or better known as a justified Twitter dragging, Lena Dunham has issued an apology to NY Giants wide receiver Odell Beckham Jr.
Dunham was previously under fire for assuming the NFL star ignored her at the Met Gala because she "was not the shape of a woman by his standards."
Dunham apparently now understands why her original comments — driven by faux white feminism outrage — were so problematic and the dangerous historical context of white women falsely accusing black men.
"I owe Odell Beckham Jr. an apology," she wrote on Instagram. Her full message is below:
"Despite my moments of bravado, I struggle at industry events (and in life) with the sense that I don't rep a certain standard of beauty and so when I show up to the Met Ball surrounded by models and swan-like actresses it's hard not to feel like a sack of flaming garbage.

This felt especially intense with a handsome athlete as my dinner companion and a bunch of women I was sure he'd rather be seated with. But I went ahead and projected these insecurities and made totally narcissistic assumptions about what he was thinking, then presented those assumptions as facts.

I feel terrible about it. Because after listening to lots of valid criticism, I see how unfair it is to ascribe misogynistic thoughts to someone I don't know AT ALL. Like, we have never met."
So far, so good. However, the apology gets even better when Dunham acknowledges how black men have historically been beaten and killed for casually looking at a white woman or based on a white woman's false accusation. Emmett Till is probably the best known example of this.
"I would never intentionally contribute to a long and often violent history of the over-sexualization of black male bodies- as well as false accusations by white women towards black men."
Lena Dunham's Instagram apology was actually very well-written, sincere, and addressed the issues at hand. It was much better than her initial Twitter response to the backlash, which seemed half-hearted.
Odell Beckham Jr. has yet to comment on the situation.
Be the first to receive breaking news alerts and more stories like this by subscribing to our mailing list.