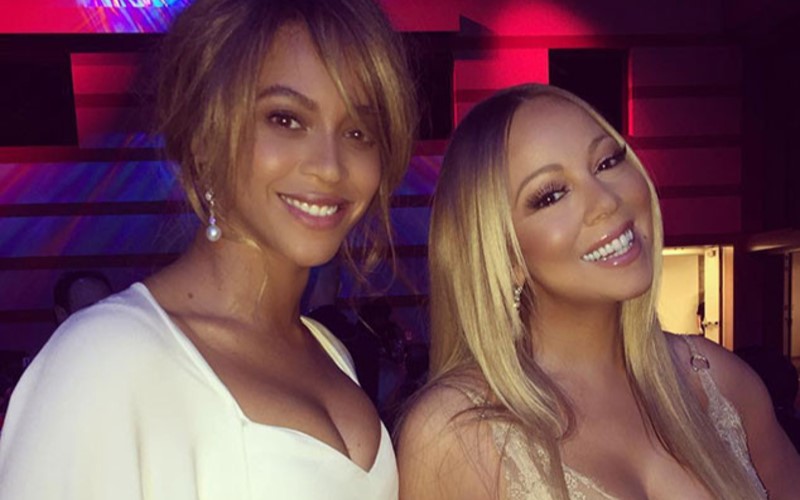 It's no secret that Mariah Carey does not like Jennifer Lopez, but does she also have a problem with Beyoncé? According to a recent report, the answer is yes. And she will pull a diva move if you play Beyoncé's music in her presence. Allegedly, of course.
An Australian site claims Carey recently threw a computer out of a window simply because it played a Beyoncé track. Apparently, Carey's fiancé, billionaire Aussie James Packer, was trying to set a romantic mood for the couple.
"To get her in the mood last month, he turned on 'Crazy in Love', and oh boy, was that a disaster! Mariah threw the computer that was playing it via speakers out the window! Seriously, just trashed it.

She ran out of the room screaming. So the night was obviously finished for James, and they retreated to separate parts of the house. And she had a few glasses of wine to cool down."
The couple have been dating for well over a year now, but I'm not sure they're a good match. A source revealed Packer has tried this stunt before, but with a JLO tune!
"He put on five bars of 'Waiting for Tonight', and Mariah coughed out her [zucchini] at dinner, so James made a beeline for the Spotify and immediately put on Mariah's Greatest Hits!"
See, this is where I start to question this story. EVERYBODY knows not to mention Jennifer Lopez to Mariah Carey! What kind of fiancé would do something like this? However, the source added Packer has learned not to play songs from any other female pop star. "It's either Mariah, jazz or classical!" the source added.
I have no doubt that Mariah Carey is the ultimate diva. However, it's a little extreme – even for Mariah – to throw a laptop out the window because music you didn't like was playing.
Besides, Gossip Cop has already debunked the story:
A rep for the superstar tells us no such incident happened. Gossip Cop suspects this outlandish tale is not based in reality, but rather a fictional story inspired by two things.

First, there's Carey's well-known coolness towards Lopez, which has been written about extensively in recent months. Second, the singer's ex, Nick Cannon, just said a few days ago how she prefers listening to her own music, particularly during intimate moments.

It certainly seems like The Fix simply crafted a new report after seeing those other things. And then other outlets, loathe to fact-check when they can instead be outrageous, just picked up the new claims as if they were fact. But they're not. A rep for Carey exclusively tells Gossip Cop the allegations are "false."
Be the first to receive breaking news alerts and more stories like this by subscribing to our mailing list.