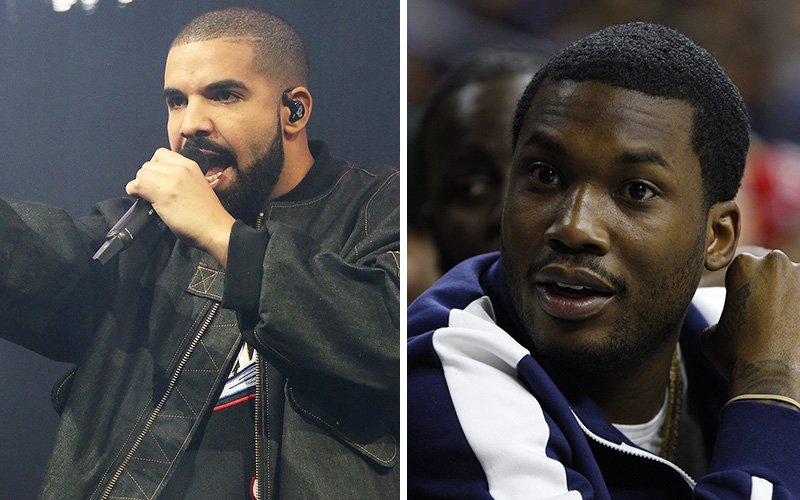 Drake is really out here looking for revenge ALL Summer Sixteen.
Just one day after calling Meek Mill a "p**sy" at his Summer Sixteen Tour concert in Washington, D.C., Drake upped the ante even more in Meek's (alleged) hometown of Philadelphia by dissing him TWICE in one night.
The first shot (we'll call it a "warning shot") came while Drizzy was performing "Still Here," a cut from Views From the 6. "You not really from Philly and they can tell, nigga!" Drake rapped, practically evicting the guy from his own damn city.
https://twitter.com/SheHatesJacoby/status/767566222900604929
He never mentioned Nicki Minaj's boyfriend by name, so the "you" in "You not really from Philly" could be anyone. But just in case you were wondering who he was talking about, the "6 God" rapper followed up that diss with another one, this time while performing "Back to Back."
"I even did this shit in Philly, man, I never run," Drake rapped before leaving his rap rival with the following message:
"Just remember… when you watch that video over and over tonight, it's not about your city, I love your city. You did that shit to your motherfuckin' self, boy."
https://twitter.com/Nigel_D/status/767569144933998592
Drake and Meek Mill have been beefing since last July when he accused Drake of not writing his own rhymes, apparently as a response to Drake refusing to promote Meek's new album at the time on Twitter.
It's been more than a year and Meek Mill still hasn't issued a proper response to Drake's "Back to Back." Meanwhile, folks on Twitter are calling Drake out for bullying the "poor boy."
https://twitter.com/__AlmightyZo/status/767565373839384578
Drake is bullying Meek at this point. In his own city too

— Creole Ting (@Maiyaaaaaaaa) August 22, 2016
Drake should stop bullying son at this point

— Coach Cartier (@joe_espy) August 22, 2016
drake basically bullying meek at this point, like the shit not even cool

— renz (@RenzRude) August 22, 2016
Its got to the point where taking Ls in august has become a yearly tradition for meek mill man. Drake need to stop bullying, nikki save Meek

— 6'3™ (@OfficialPapi831) August 22, 2016
I love me some Drake but I feel like he bullying Meek at this point lol like leave him alone. You done already embarrassed the poor boy

— A L A N N A H (@LannahBanana_) August 22, 2016
Is Drake Just Bullying #MeekMill Now?https://t.co/3n9tpKwaCk pic.twitter.com/w02Rwt4RKl

— Insider News (@ViralLeaksMedia) August 22, 2016
https://twitter.com/kingtrelll/status/767726431463993344
https://twitter.com/FatManFerrari/status/767742766055030785
drake straight bullying meek mill at this point smh

— will?? (@wilsondavid_c) August 22, 2016
i'm a fan, but not of bullying…. drake gassed up.

— ? (@___shanie) August 22, 2016
Drake bullying Meek so bad, we forget it was Meek who started the issue.

— Krew Season (@AskTrillAC) August 22, 2016
Be the first to receive breaking news alerts and more stories like this by subscribing to our mailing list.