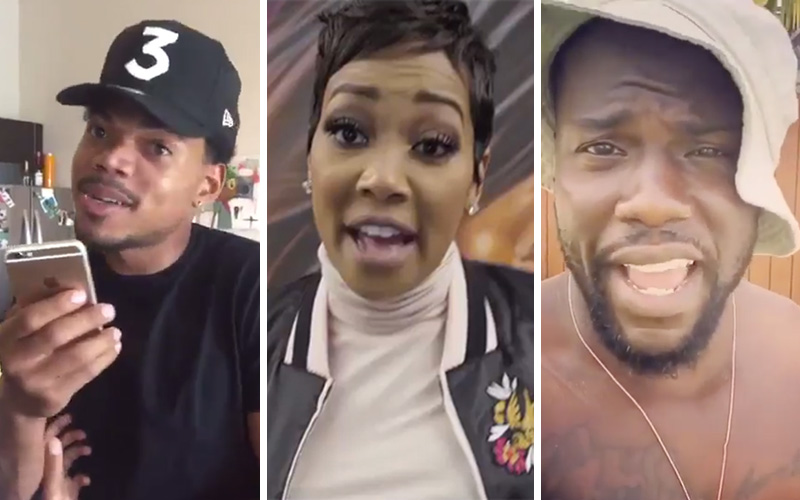 For reasons unknown, everybody and they mama on social media has been participating in the latest Internet craze, the "So Gone Challenge."
The point of the #SoGonChallenge is to make a video of yourself rapping to Monica's 2003 hit single "So Gone" and post it on social media (Facebook, Instagram, Snapchat, etc).
While the majority have been painful to watch, there have been a few standouts that were actually good. Several celebrities, including Monica herself, Keke Palmer, and Kevin Hart even joined in on the fun.
Check out a list of our favorite and no-so-fave "So gone Challenge" videos below:
Best:
Of course, Monica had to bless us all with a freestyle because it is her song that everyone is spitting on. Missy also appears in Mo's video, but unfortunately all we get to see is her back and her hair swinging back and forth. Mo still did her thang though!
https://www.instagram.com/p/BJLlHoTBR48/?taken-by=monicabrown&hl=en
Chance dropped a cute freestyle for his girlfriend and her expression afterwards is enough to make you fall in love with this. This is supposedly the freestyle that kicked off this craze.
I made my girl film my #sogonechallenge pic.twitter.com/hWaznUgs2q

— Chance The Rapper (@chancetherapper) August 10, 2016
Keke Palmer killed her freestyle, name-dropping Jamie Lee Curtis and Ryan Murphy, the creator of "Scream Queens." It also doesn't hurt that she looks exactly like Monica in her video.
Hands down, the best "So Gone Challenge" goes to Dr. Miami, who truthfully rapped about being the trillest surgeon in the OR and creating the bad bitches on IG. Dr. Miami did that!
https://www.instagram.com/p/BJOFWtDBC0D/?taken-by=therealdrmiami&hl=en
Wade dropped some struggle bars and proved exactly why he should stick to his day job of dribbling and shooting basketballs.
Kevin rapped about Lays potato chips and sunflower seeds. Yep, another pointless Kevin Hart freestyle.
Be the first to receive breaking news alerts and more stories like this by subscribing to our mailing list.