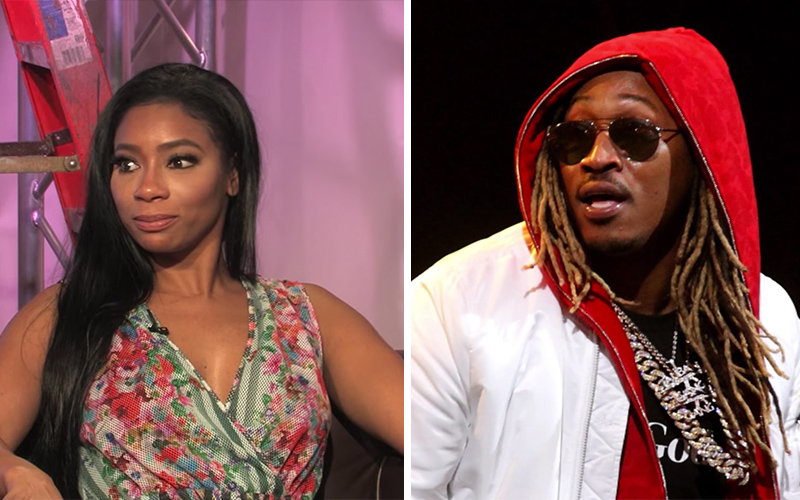 While she was once ride or die for Scrapp, Tommie Lee, the requisite drunk chick on Love & Hip Hop Atlanta, signaled to the world that she might just have a thing for Drake's BFF and Ciara's baby daddy, Future.
In an interview with TMZ's Raq Rants, Tommie mentioned that though she's hit up by plenty of famous men in her DMs, there are some men who'd she'd like to see in her DMs who aren't currently hitting her up.
The interviewer pressed Tommie for more details and she confirmed that it was a rapper, but refused to give anymore specifics.
That is until it was time to play "Spittin' Game," which is basically a word association game. When she was asked to respond to Stevie's name and face, Tommie called him a weirdo. And when the Game's name was thrown out there, she said she wasn't interested.
But when Future was brought up, Tommie instantly turned into a shy school girl and began to play dumb like she didn't know who he was. Ding! Ding! Ding! We have a winner!
Since Ciara has vacated the premises, and since they both have a penchant for being reckless at the mouth and alcoholics, I could definitely see Tommie and Future being the black version of Pamela Anderson and Tommy Lee. And let's be honest, if Tommie could bring future onto LHHA, that'd be a major key for the show.
But the reality is, Tommie is probably not high enough on the celebrity ladder for Future at this point. Ciara done upgraded to a clean-cut NFL player. Future ain't gonna go from dating a C-List celebrity to a D-Lister. But she might could be his backstage groupie or somethin'.
Be the first to receive breaking news alerts and more stories like this by subscribing to our mailing list.