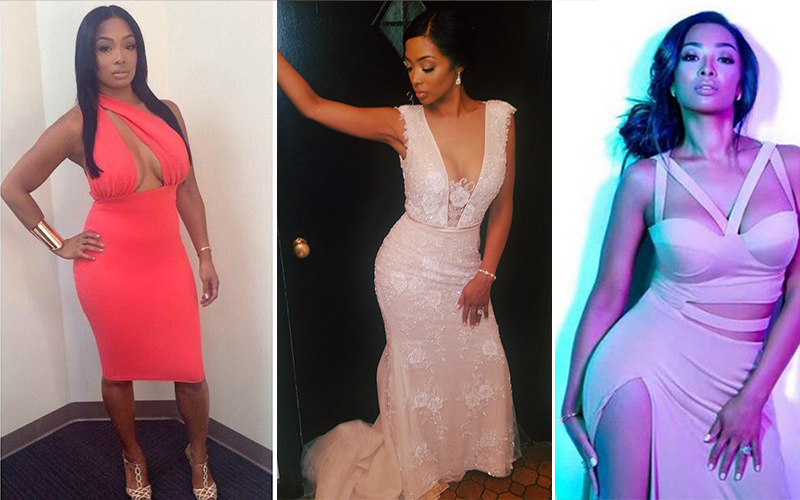 While Teiarra Mari is ballooning like the spoiled brat Violet from Willie Wonka, Princess Love has made a commitment to getting very slim and trim.
Ain't that the devil's work? Princess Love got the man (Ray J) and the BODY? Teiarra Mari is meanwhile relegated to the second tier on Love & Hip Hop Hollywood and her music career is still on life support.
But some segment of the black community is not happen about Princess' weight loss. According to these folks, Princess Love was better when she was thicker than a snicker.
Here's a pic of Princess from back in the day, from the LHHH season 1 reunion in fact:
#Lhhh Reunion pic.twitter.com/kdEpX28YDf

— Princess Love (@mzprincesslove) November 13, 2014
And this is Princess' slim new body:
https://www.instagram.com/p/BI88h-jDc0-/
https://www.instagram.com/p/BJGvqGWDwc8/?taken-by=princesslove
The thing is, Princess has never even been fat. But apparently, after giving up alcohol and going vegan, she managed to drop an eye-popping 40 lbs.
Some fans, unfortunately, have not been supportive and let Princess know that they liked her better when she was "fat."
Well, Princess decided to clap back and let the world know she's not here for it.
https://www.instagram.com/p/BJOrbatDdPz/?taken-by=princesslove
I'm Vegan and alcohol free. I went from 163lbs to 123lbs in 7 months the healthy way, by changing my diet and working out. When I was thicker I was eating junk food and drinking every single day. I'm happy with my body and that's all that matters. I understand that everyone has an opinion and that's fine.. But if I state my opinion about a lot of you, you would probably delete your IG, so from now on I'll just keep it to myself… I'll probably delete this in a few hours
Not everybody wants to see you win. Princess is to be commended on making a lifestyle change that improves her both on the outside and the inside. Those who like "fat" Princess should go ahead and enjoy their own chubby, flabby reflections in the mirror and let her live.
Be the first to receive breaking news alerts and more stories like this by subscribing to our mailing list.