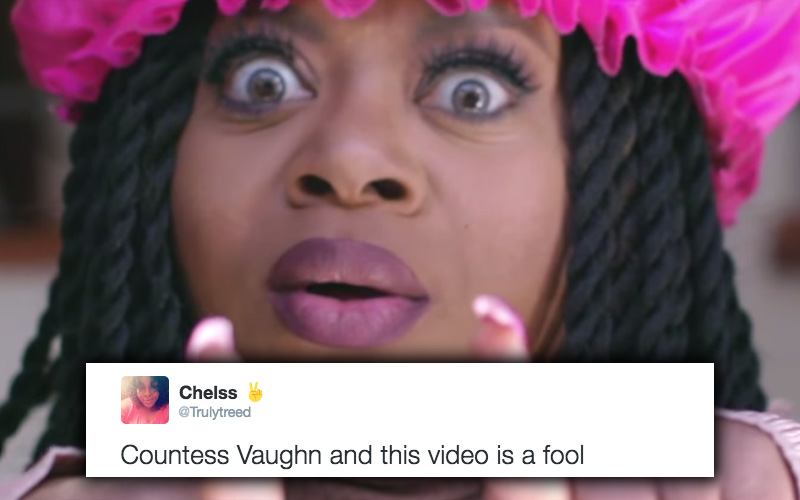 Countess Vaughn ended up a trending topic on Twitter today for all the wrong reasons.
The actress turned reality star is no stranger to the spotlight, having been on the scene since the 1980's and starring in hit sitcoms such as "227," "Moesha" and "The Parkers." In recent years, she's re-emerged via the TV One reality series Hollywood Divas and her expressive personality makes her a staple on social media.
Despite being diagnosed with a thyroid condition that makes her voice hoarse, Countess has decided to embark on a career in music, and this season on Hollywood Divas, she shot a music video for a song she recorded called "Do You Love Him?"
Vaughn finally released the video today, and Twitter can't stop talking about it.
Based on Countess' awkward dancing, her signature funny faces, and the "campy" nature of the storyline, some folks are questioning if the video was meant to be a joke, while others are simply asking why it was even created in the first place. Then there are those who seem to genuinely enjoy the overall gift that is Countess Vaughn.
A few highlights from the Twitterverse:
Me looking at Countess Vaughn 's video like who signed off on this? #DoYouLoveHim pic.twitter.com/sOkGXQkrDG

— ShakariSBriggs (@ShakariSBriggs) August 18, 2016
All of Black Twitter right now after watching that Countess Vaughn video LMAO ? ? ? pic.twitter.com/gDYJyOeB3X

— Blerd & AnimeOtaku (@AnimeOtaku1723) August 18, 2016
Countess Vaughn and Tisha Campbell gotta remake the "Beautiful Liar" song and video. For the culture.

— Radicalized Ursula the Sea Witch Stan (@vinabean) August 18, 2016
Countess Vaughn recorded these vocals in a payphone booth. Because there's just no way they were done in a studio.

— Fellatio Alger (@atomiclust) August 18, 2016
i can tell from that video that countess vaughn doesn't have any good friends.

— fooler initiative (@metroadlib) August 18, 2016
Who let Countess Vaughn do that? Her friends don't love her.

— Rich Steele (@RichSteeleMusic) August 18, 2016
https://twitter.com/MADBLACKTHOT/status/766166813205856257
i have never seen or heard anything like this…….
in my entire life:https://t.co/43ruIRhdxf

— fooler initiative (@metroadlib) August 18, 2016
Countess Vaughn is the gift that keeps on giving.

— Globethotter ? (@BrianMcLight) August 18, 2016
Countess made a music video that managed to successfully describe Black folks who wear colored contacts. Impressive!

— Michael Arceneaux (@youngsinick) August 18, 2016
If that Countess video was satire, it would be brilliant & deserving of a Peabody or something. But she was serious so we gotta pray. Amen!

— Michael Arceneaux (@youngsinick) August 18, 2016
I wish Countess had made a video for that "Shake Your Booty All Night" song she sang on "The Parkers."

— Michael Arceneaux (@youngsinick) August 18, 2016
Countess Vaughn & Freestyle Unity need to put out a greatest hits album and go on a reunion tour.

— Charisse ?? (@Scandalous49) August 18, 2016
Countess Vaughn and this video is a fool pic.twitter.com/K33Isq1ihE

— Pimp Cee ? (@Trulytreed) August 18, 2016
Sad part is, the chorus to Countess Vaughn's song is stuck in my head. Over here singing "dooo you loooove hiiiim" at my desk.

— sigma perp. ?? (@jaicelemar) August 18, 2016
Man.This Countess Vaughn video has to be the worst prank of 2016 ???

— Ruh-keh-ti (@RKHTY) August 18, 2016