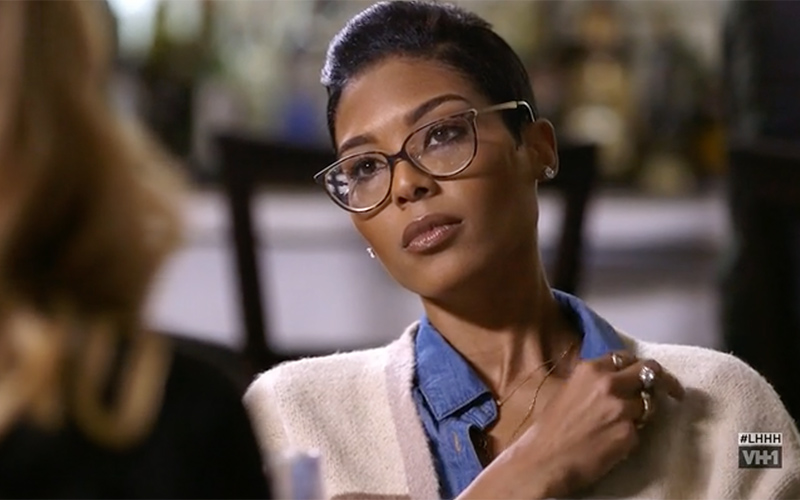 After operating as a somewhat background player for the past two seasons of Love & Hip Hop Hollywood, Moniece Slaughter has decided to tap into her inner Disney villainess and step onto the main stage in season 3, baby!
The first two seasons of LHHH revolved heavily around Teairra Mari and her struggles. Whether it was with her weight, her dead-ass music career, her friendships and her lingering obsession with her ex-Ray J, Jay Z's one-time protege was at the center of every LHHH battle.
But there's a new bitch in town, and her name is Moniece Slaughter.
Things start off fast and furiously as we catch up with Moniece who is sporting one of the most god-awful hair pieces ever invented. Her hair stylist took every unflattering shade of brown, gray and dust and blended it into a wig on Moniece's head with varying textures. It's curly in the front, straight on the sides, and just a hot damn mess all-around.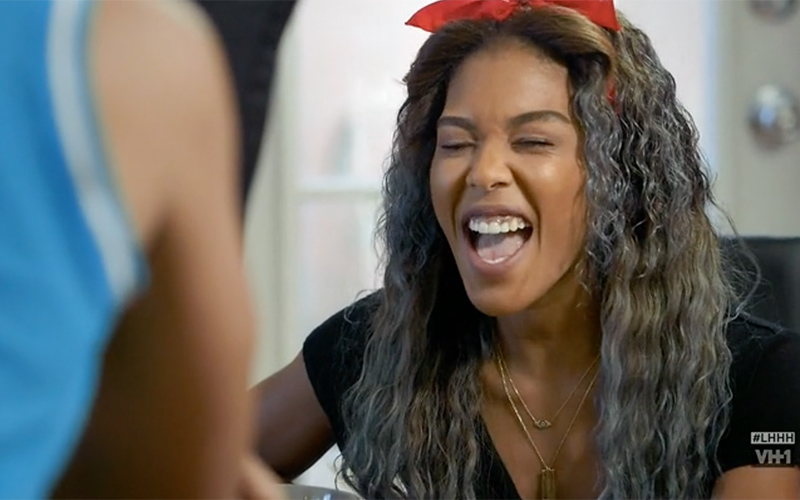 But Moniece's bad hair isn't the big reveal. Instead, we learn that her baby daddy Lil' Fizz has decided to move in with her.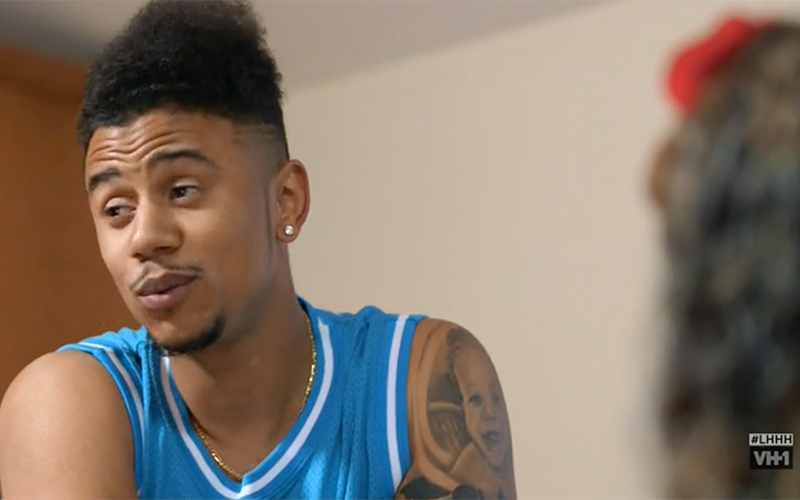 Unfortunately, Fizz is being styled by an equally awful barber and he's sporting a horrendous attempt at a Gumby haircut. I love a good throwback hairstyle, but your gumby cannot be thinning out like cotton candy at the top sir. Your hair texture just MIGHT be too soft or thin to pull off what you're attempting.
After the viewers have recovered from Moniece and Fizz's hair disasters, we learn that Fizz is staying with Moniece because there's some kind of gas disaster at his place. It's a flimsy excuse and we all know because Motel 6 is open. But let's play along shall we?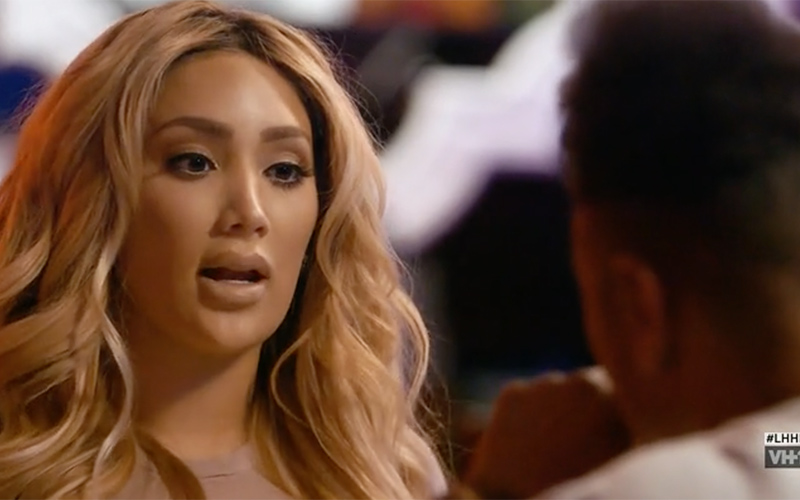 Fast forward to a date night between Lil' Fizz and Nikki Mudarris, his on-again, off-again boo thing. Fizz tries to get Nikki to take the relationship seriously and give him the keys to her place, but Nikki smartly declines the offer. What Nikki doesn't know, however, is that Fizz is asking for her house keys because he's living with Moniece.
The secret doesn't stay quiet for too long though. Teiarra, who's been cast this season as a friend, organizes a kumbaya session between Nikki and Moniece. Teairra feels that since Richie Dollaz was the cause of their disagreement, with him out of the picture, they should be cool.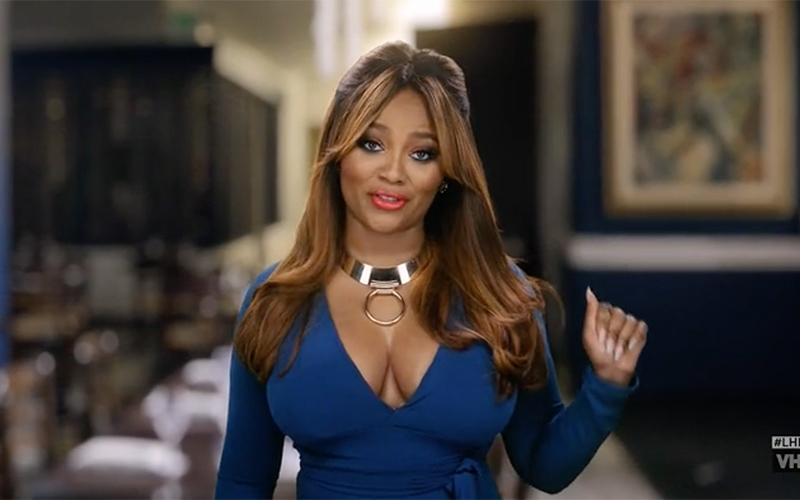 What Teiarra doesn't anticipate is for Moniece to roll up and let loose that Fizz is actually shacking up with her, but that she also would like his sperm so that she can have another child with him.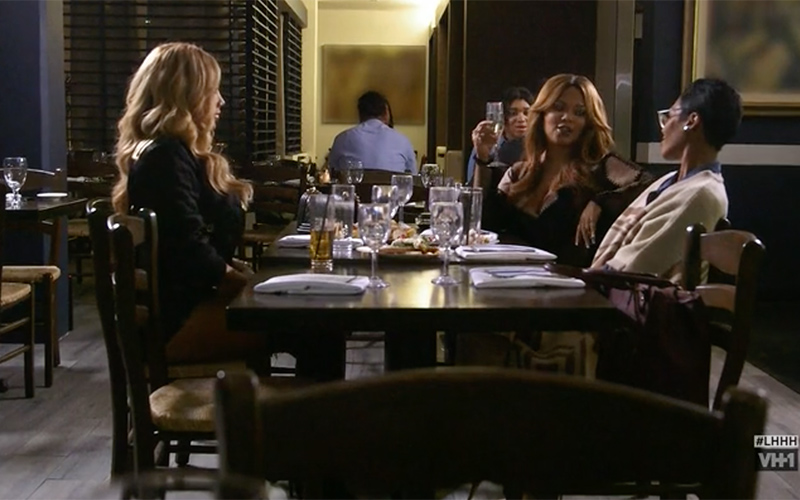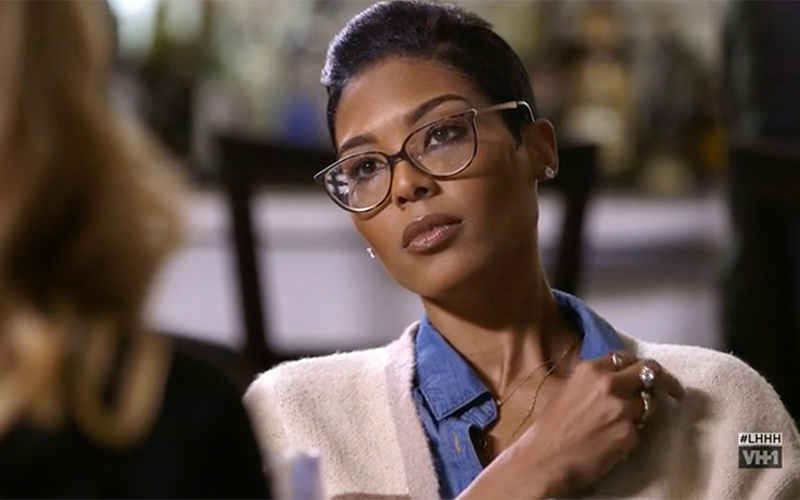 Bittttttccchhhhh!!!
Here's the thing: While this is a bit of a bombshell, the reality is that Nikki and Fizz's relationship has never been burning hot. At best, they've been fond of each other. But they've never been in a deep, passionate relationship. But Nikki has to act offended because what else are they paying her for?
So Nikki invites Fizz to Marina del Rey where she does her best to pull a Karlie Redd and brings props to confront Fizz about living with Moniece and potentially having a baby with her. First, she breaks out a potted plant as a housewarming gift and then she breaks out the onesie.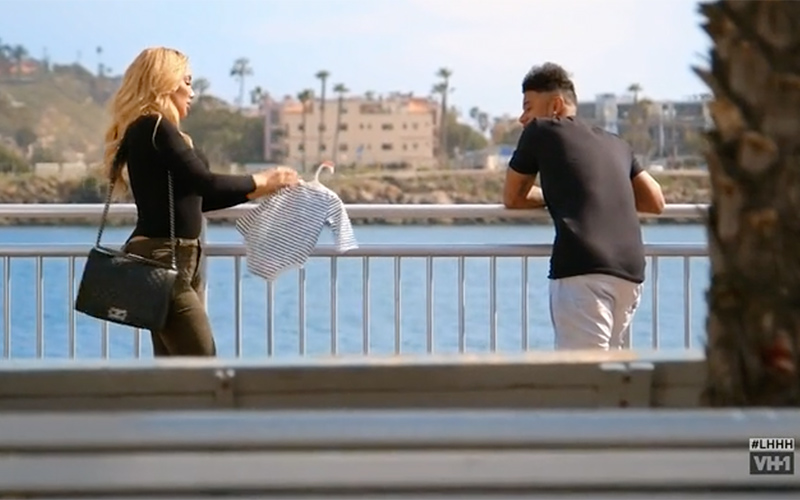 Fizz dismisses Nikki's theatrics and blames their failed relationship on Nikki's busy schedule. He does rightly inform Nikki that since they aren't exclusive, he had no reason to tell her about his living situation. Which is correct. Nikki smartly agrees and the two part ways.
Teairra Mari Is Stuck in the Middle Again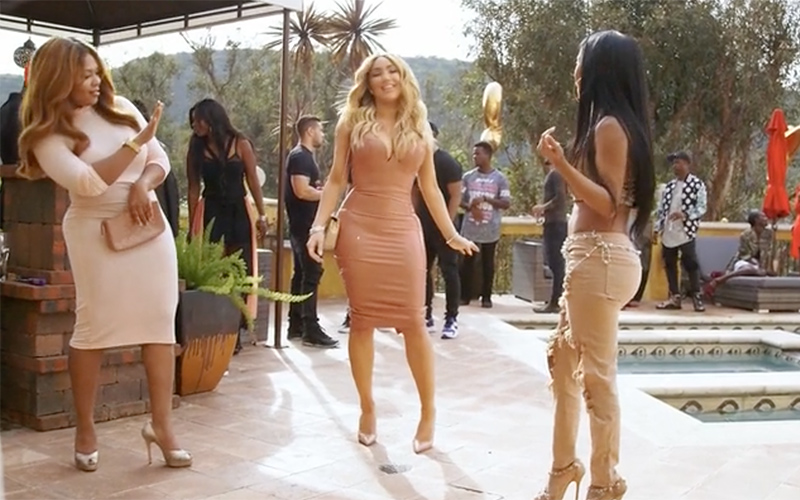 After being caught between Nikki and Moniece, Teiarra finds herself playing Switzerland again when she attends one of Nikki's launch parties. Brandi, Ray J's play cousin, is still a bit bent out of shape about the shouting match that happened between her and Moniece.
Moniece is pissed because Brandi called her a bad mom and Brandi is furious because Moniece sent a message on Instagram that she interpreted as an attack on her child.
It all goes down at this Mommy-mosa party that Nia Riley and Moniece decide to co-host.
Brandi and Moniece confront each other about their bad blood and it doesn't take long before voices are raised, fingers are pointed and faces are contorted in fury.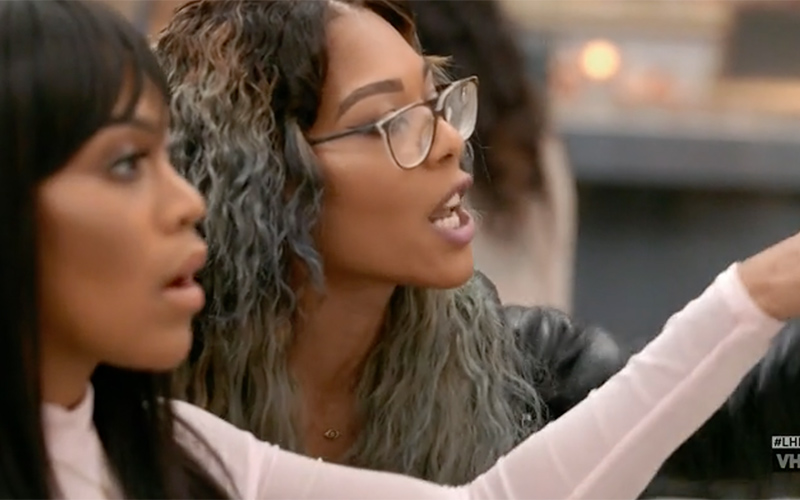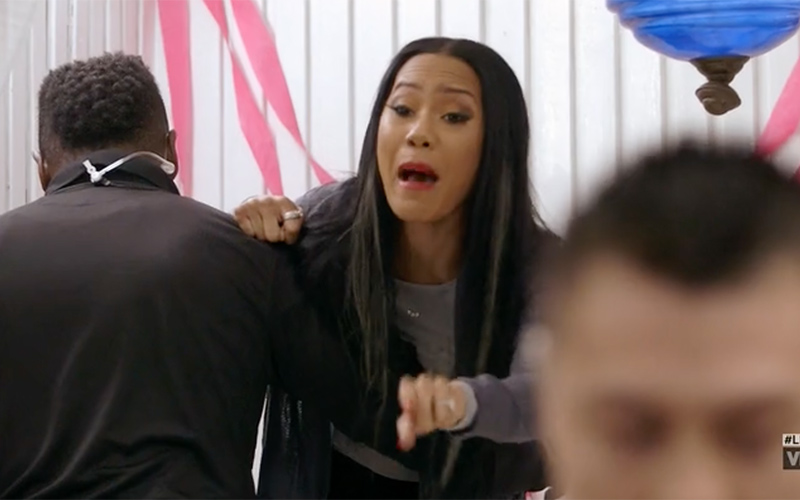 The funniest part is watching the reactions of the crowd. I have to assume that these people are simply extras who were brought in off the street and not actual friends of anyone on the cast, because they're too normal looking to be running around these streets with any of these chickens.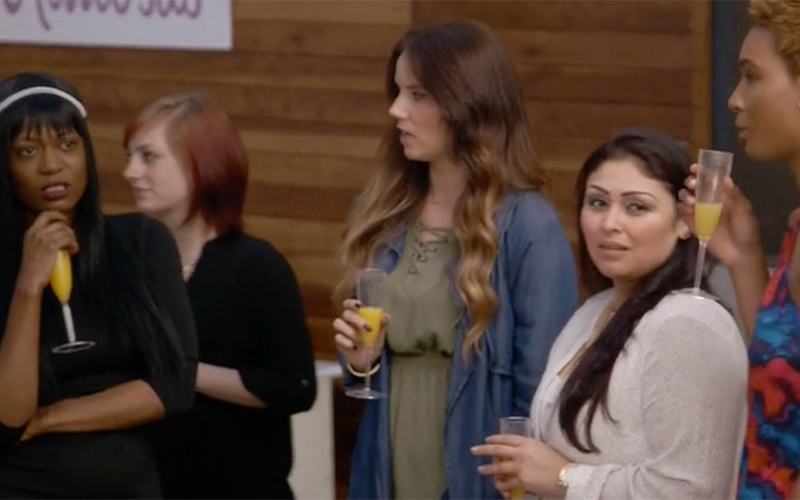 Although an apology on Moniece's behalf was extended to Brandi if she "thought" she was insulting her child, before Brandi can reciprocate with an apology of her own, Moniece preemptively rejects Brandi's apology, predicting that it wouldn't be sincere and walks off.
And if that weren't enough, Moniece goes ahead and dubs Brandi, "Smurfette." This bitch ain't got a lick of respect for nobody….and I love it!
Ray J and Princess' Prenup Struggle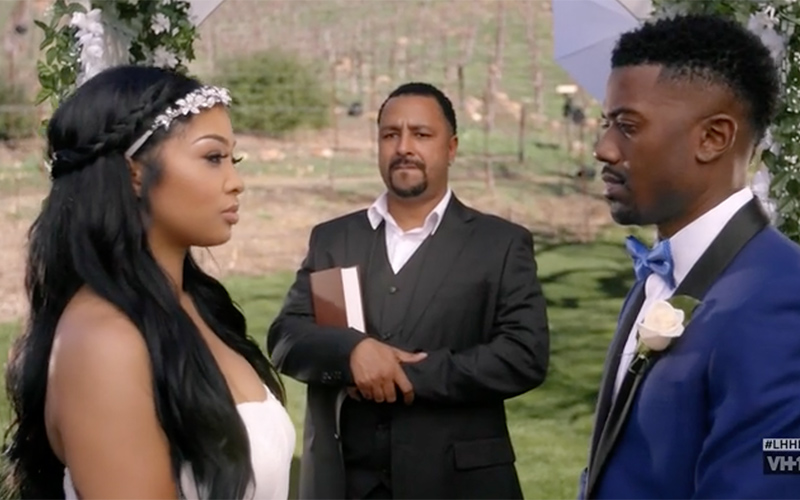 After tussling and fighting like a cat and a dog, Princess and Ray J have decided that they really love each other after all. So Ray has decided to make an honest woman out of princess and ask her to be his wife.
In an attempt to pull one over on the viewers, producers open the episode with Ray J and Princess at the alter. But surprise! It's just for a magazine shoot.
Phew!
After the pics are snapped, Ray J's momager Sonja Norwood calls her son aside and asks for a word with him.
Sonja, whose hair looks like a wild bird's nest, has one thing on her mind: A prenup.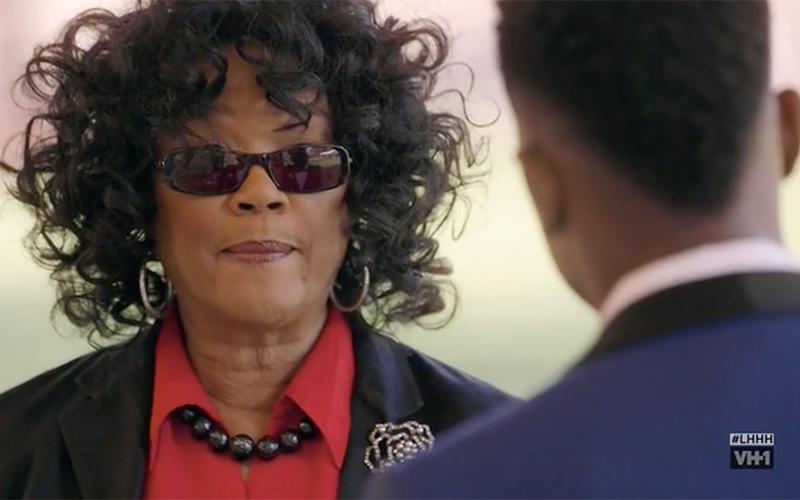 Given Ray J and Princess' toxic past, Sonja makes it clear to Ray J that a prenup is a must. While everything is lovey dovey today, if it all goes to hell in a handbasket tomorrow, Ray J must protect his assets.
Ray J is hesitant though because he feels that raising the subject might hurt Princess' feelings.
He's right. When Ray J floats the idea of signing a prenup as they're at the auto shop customizing their cars, Princess' face says, "No, no, no."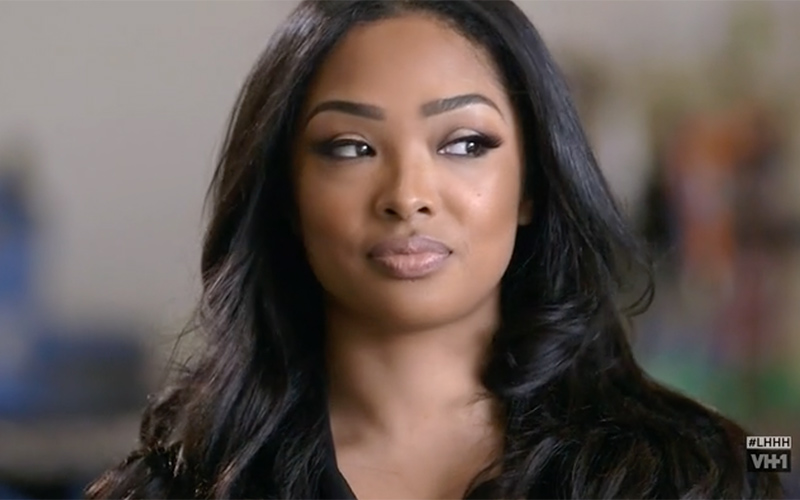 Princess pulls no punches: If Ray J insists on a prenup, there will be no wedding. So now, Ray J has a conundrum: Which woman in his life will win in the end? His mama or his fiancée? I have a feeling Mama Sonja ain't takin' the L, to be honest.
Willie Taylor's Marital Mess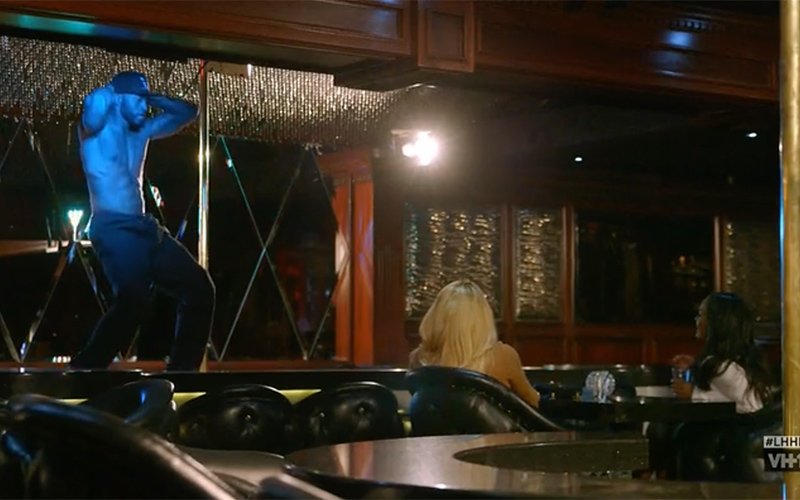 After basically going broke on national television last season, things have moved up slightly for Willie Taylor, formerly of Day 26, this season. He's earning a living stripping these days. Kind of.
You see, Willie's been cast in the sequel to the bootleg version of Magic Mike, Chocolate City II. For some reason, Willie and Shanda think it's a good idea to "rent" Nikki's place out so he can practice his routine. And apparently part of this arrangement involves Nikki watching? Shanda is a dumb ho for that.
Nikki has a track record of snatching people's men and Shanda thinks having her husband gyrate and strip for Nikki's delight is a good idea? Don't put tuna in front of the cat if you don't want it eaten now.
But the stripping gig is just a sidebar in the main mess of Willie's story this season.
Shanda, who is an actual stripper, has decided she's ready to be a recording artist. So she's going into the studio with this producer named Blaze, who apparently hit on her once upon a time. Willie seeks counsel from Soulja Boy and Lil' Fizz about how he should handle the situation, which is hilarious because anyone who seeks Soulja Boy's advice on anything in life deserves the L they're bound to take.
So the producers basically set it up so that the viewers think Shanda is the one who is going to be disloyal to her husband. But lo and behold, during Shanda's recording session with Blaze, in walks a woman named Kyesha.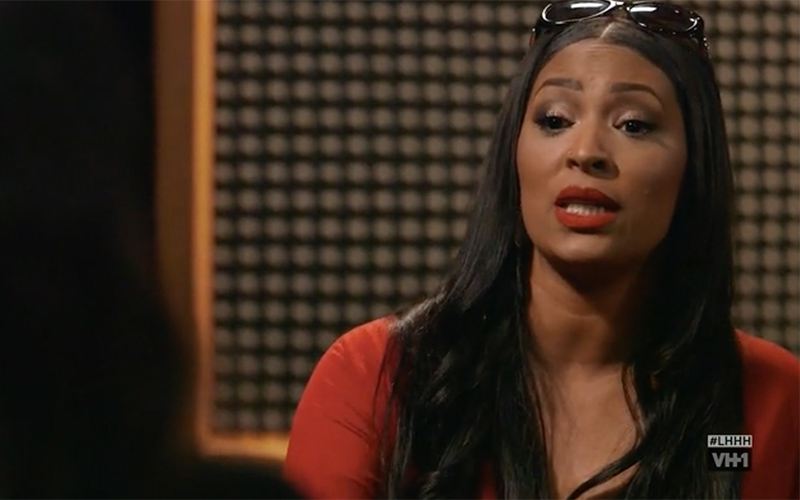 Kyesha bursts into the studio session and announces that she'd like to talk with Shanda about what her man has been doing with her while he's in Chicago. Before you know it, Miss Messy Kyesha is pulling out text messages and receipts that show that Willie has been creeping with her behind Shanda's back.
Determined to get to the bottom of this, Shanda walks out of the studio and heads straight to Willie's recording session to ask, "What have you been doing outside of your marriage?"
Welp. If the answer to that question is as messy as the setup, we should be in for some good ol' trashy reality TV.
Be the first to receive breaking news alerts and more stories like this by subscribing to our mailing list.