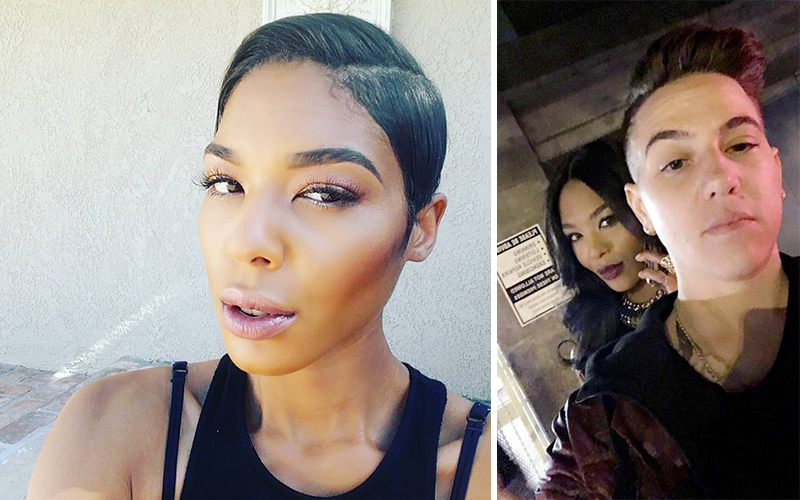 Sometimes the old bag of tricks is no longer fun, cute or amusing. Ever since Erica Mena pulled this desperate stunt where she pretended to go lesbian first on the NYC edition of Love & Hip Hop, Mona Scott-Young has decided to copy and paste for other cities in the franchise.
Mimi popped up on the last season of Love & Hip Hop Atlanta with a butch lesbian girlfriend named Chris, who preferred to go by male pronouns. It was forced, fake and cringeworthy, but Mimi is apparently sticking with the lesbian schtick for a little while because even though she broke up with Chris, she's since found another woman to munch on her carpet.
Now the latest Love & Hip Hop star to jump on the Lesbian Lifeline is Moniece Slaughter of Love & Hip Hop Hollywood. Lil' Fizz's ex-girlfriend and baby mama broke the news to the world that her lover was a woman when she posted a recent Instagram video of some flowers she'd received.
https://www.instagram.com/p/BI-2iWSD0GE/
Then, this photo of Moniece and a Justin Bieber-style lesbian stud surfaced.
https://www.instagram.com/p/BI-9-e8AxiC/
I mean, I guess after scraping the bottom of the barrel and dating Rich Dollaz, you can sort of understand how a traumatic experience like that might make you want to switch up the gender you go after.
But still, this is like a temporary tattoo. Moniece's lesbianism will rub off. And when it does, the poor stud she's pulled along for the ride will have to go back to her part-time gig as a Justin Bieber impersonator.
Be the first to receive breaking news alerts and more stories like this by subscribing to our mailing list.