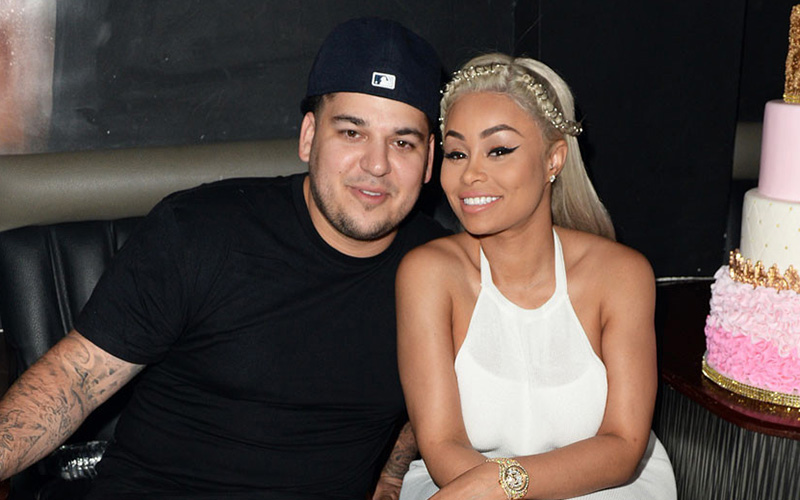 Rob & Chyna, the reality show that everyone was dying for about 5 months ago before messy Chyna made up with her soon-to-be sister-in-law, might be hitting a bumpy patch in the road. Or it might be running along just smoothly, thank you very much.
So which story is true? Well, it depends on whether you believe TMZ's version of events or People's magazine's.
TMZ came out swinging first with a story claiming that Rob Kardashian was having second thoughts about placing his personal life back under the unflattering glare of reality TV. After all, the pressures of fame drove him to become depressed and obese in the first place.
Rob Kardashian is going back in his shell … and his reality show is now on the ropes.

Production sources for his new reality show with fiancee Blac Chyna tell TMZ … Rob has been skipping filming over the last month, complaining that the show is compromising their relationship.

We're told Rob believes 'KUWTK' has destroyed his family, and he fears the same will happen with his relationship with Blac Chyna if they put everything out there for the new show.

As a result he's been a no-show for various shoots … notably a big Kardashian shindig in San Diego celebrating his grandmother's birthday. Blac Chyna ended up filming solo.
Honestly? This doesn't sound far-fetched given Rob's random bouts of reclusiveness and his spotty track record with appearing and disappearing on main reality franchise, Keeping Up with the Kardashians.
But Kris Jenner and Blac Chyna weren't about to have Rob mess up their money, so they quickly dialed up the folks at People magazine and put out a counter narrative, claiming that all was well and that there haven't been any disruptions with production of the show.
Though expectant parents Rob Kardashian and Blac Chyna's relationship has encountered pressures in recent weeks, an insider tells PEOPLE that "there haven't been any problems with production" on filming the couple's E! reality show.

There have definitely been a few growing pains on the set of the show. It's a lot of work and a big commitment," a source close to Kardashian tells PEOPLE. "But things are going more smoothly now."

"There haven't been any problems with production," an insider closely tied to the reality production said of filming Rob & Chyna, which will debut later this year. "It's set up to follow the ups and downs of their lives and yes there are ups and downs, but that hasn't affected production at all. The network is extremely happy so far."
The People version of events is too neat, too clean and too polished to really ring as true. If I were a betting man, I'd place my money on TMZ. After all, they knew Michael Jackson was dead before anyone else. TMZ runs these streets.
Be the first to receive breaking news alerts and more stories like this by subscribing to our mailing list.