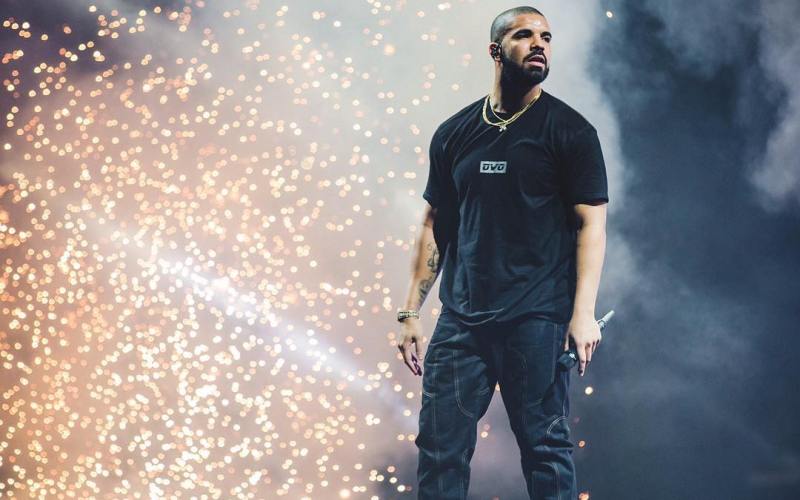 This Drake vs. Hot 97 feud has gotten real petty real quick. The rapper spent his fourth and final night at Madison Square Garden dissing the radio station.
The final concert of Drake's four-night Summer Sixteen Tour run in NYC featured Fat Joe, Remy Ma, T.I., J. Cole, Dipset, and other popular hip hop artists. Due to the amount of stars Drake had out on the stage, he threw a little shade at Hot 97's annual hip hop fest, Summer Jam. "This was the real Summer Jam. What have they done for New York lately? I don't know," he said to the crowd.
"This was the real Summer Jam. What have they done for New York lately? I don't know." – Drake pic.twitter.com/DKnogzhmAk

— Karen Civil (@KarenCivil) August 9, 2016
To make matters worse, Drake took to social media and posted photos of him and Charlamagne Tha God popping bottle after the concert. Charlamagne is a popular personality at Hot 97's main rival station Power 105.
Although Drake and Charlagmane have had beef in the past, the pic was in reference to a lyric from "Back to Back," a diss track the rapper released last year aimed at Meek Mill.
"You gon' make me send some bottles to Charlamagne," he rapped. Drake also sent the radio personality six bottles of Dom Perignon champagne with a handwritten note after the track dropped.
Drake's antics did not go unnoticed by Hot 97 or one if its popular personalities, Ebro.
Hi @Drake. pic.twitter.com/ko5lRCZYxm

— HOT 97 (@HOT97) August 9, 2016
Gotta make the show mean something… Glad he knows greatness! https://t.co/MdBoW2bELc

— El Viejo Ebro (@oldmanebro) August 9, 2016
The back-and-forth beef began after Ebro revealed on his radio show "Ebro in the Morning" that Eminem was planning to release a diss track targeting Drake. This now seems not to be true, and Drake did not like the insinuation and reportedly said "F**k Hot 97" during one of his MSG concerts. He also urged the station to fire Funkmaster Flex, a personality he already has beef with.
The drama was interesting in the beginning, but now I'm wondering why grown men are being childish over something so petty. Honestly, both sides need to just let it go at this point.
Be the first to receive breaking news alerts and more stories like this by subscribing to our mailing list.