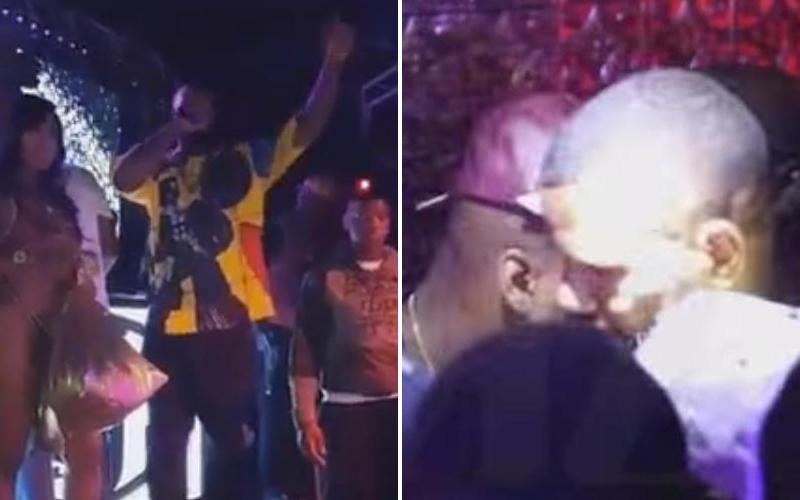 Never underestimate the power of a strip club. You never know what to expect when 50 Cent and The Game are in the same room together. However, the two apparently squashed their decade long feud while enjoying a night at an LA strip club.
The two rappers ran into each other at Ace of Diamonds in LA on Monday (Aug. 1). Not only were they cordial, but they seemed to agree to leave their beef in the past and move forward.
"I feel no certain way. I fuck with 50," Game said in a Twitter video capturing the moment of peace. "What happened, that shit was 12 years ago, niggas ain't on that shit… Aint nobody on that old shit."
The Game squashed issues with 50 Cent while in the club with him pic.twitter.com/wbLJE1cLPi

— Kenny N. (@phillycustoms) August 2, 2016
You can see them even hug it out in the Twitter video. In other footage released by TMZ, the former G-Unit members talk and laugh with each other, while 50 makes it rain in the club.
The well-documented feud began way back in 2005 after Game was added to 50 Cent's G-Unit crew. Fiddy felt Game was being "disloyal" to the group after he refused to participate in feuds against Nas, Fat Joe, and Jadakiss; Game even said he would work the rappers. 50 also claimed he didn't receive proper credit on Game's debut album, The Documentary.
Their beef escalated to a shootout at Hot 97 radio station in NYC. Members of Game's entourage shot at 50 Cent and his crew and a Hot 97 security guard shot someone in Game entourage. 50 Cent and his crew fled the building.
The two have traded jabs back and forth since. However, they attempted to mend fences as of late. They were seen partying together back in March at the Playhouse nightclub in LA and Game recently praised 50 Cent's Effen vodka.
Despite the reconciliation and happy smiles, don't get your hopes up for a G-Unit reunion anytime soon.
Be the first to receive breaking news alerts and more stories like this by subscribing to our mailing list.