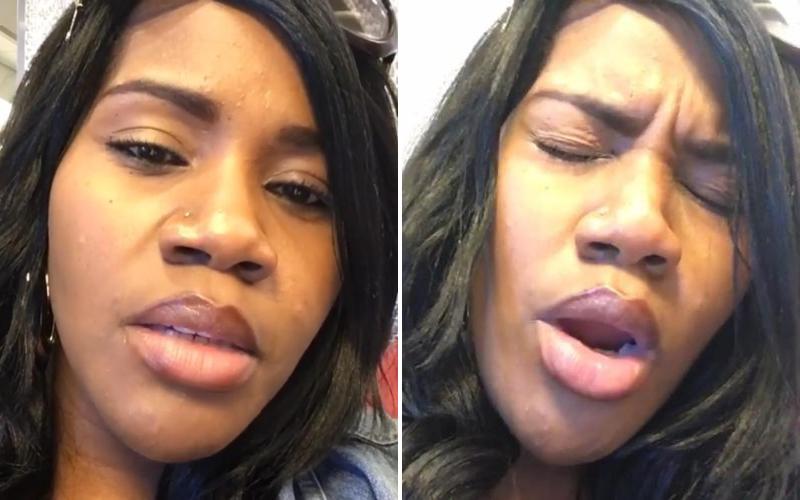 Kelly Price is calling out ALL the Saints for their hurtful and un-Christian comments after her recent performance at the Indiana Black Expo Gospel Showcase.
The preacher's kid turned R&B singer faced heavy backlash after being asked to perform her music at the expo. However, instead of performing one of her gospel songs, she sang "As We Lay," one of her more popular secular selections.
Kelly Price performs 'As We Lay' at the Indiana Black Expo Gospel Showcase 2016 pic.twitter.com/KxGy8cpSIs

— AngryMan (@AngryManTV) July 18, 2016
The song about two people having an affair did not sit well with the gospel audience and Price was criticized at the Expo and on social media.
Kelly Price: "its morninggggggggg"
The WHOLE Gospel Expo: pic.twitter.com/JKdE6oIUYW

— Glowla Darling (@missleighcarter) July 18, 2016
Who slept with Kelly Price man in the church house that she felt the need to get on stage and sing As We Lay? Who?

— YaeTuve. ????? (@_Yeezy) July 18, 2016
Kelly Price could sing an acoustic version of "Back Dat Azz Up" and STILL save souls!

— The Last ? (@JUSLIKEMIKE863) July 18, 2016
https://twitter.com/RevMelech/status/755048827099422720
Price shared her side of the story on social media via Twitter and several Instagram videos and she didn't hold anything back. She expressed her frustrations with "church bigotry" and "phony" church people.
"Church bigotry is unacceptable. Either truly represent Christ views and his love or shut up! Christians are the ones who make Christ look bad! We cannot win people because all they see is hate and shade. #ImGodsChildToo," she wrote in a video caption.
I Love God. I don't play games with him or his people. In the last 12 hours Ive been slammed and dragged online by "born again Christians" speaking on things they didn't have facts about. Nasty hateful things have been said AND my character has been attacked. All of it has been done in the name of Jesus and correction.

LIES… None of it was in love. And the discernment I was told should've been present so I could've made a better decision clearly wasn't present in the thousands of church people who decided to trash me for doing my job yesterday.

My situation shines a bright light on the ugliness that is in many religious organizations and houses of worship that say they love all people and all people are welcome. It would be better to just tell the truth and let people know you don't welcome all people, only those who fit your customized brand of converted Christian.

It had to be me and it had to blow up this way. Now starts the very public and very real conversation about church bigotry on MY platform. I hope you're ready. I am.
https://www.instagram.com/p/BH-jC2TjslG/
https://www.instagram.com/p/BH-jEcojr0g/
https://www.instagram.com/p/BH-j5QAjyhU/
The lady who was the emcee on the gospel stage at the IndyBlackExpo was so disrespectful after I left the stage

— Kelly Price (@KellyPrice4Real) July 17, 2016
I and MY songs like I was asked to do so to come behind me and make commentary about how the church ppl should feel after hearing me…

— Kelly Price (@KellyPrice4Real) July 17, 2016
You ma'am are the reason people WONT come to Jesus OR church bcuz they keep running into the likes of your ignorance!!!

— Kelly Price (@KellyPrice4Real) July 17, 2016
I believe I saw alot of y'all at The New Edition concert where I was last night and WE all had drinks in our hands

— Kelly Price (@KellyPrice4Real) July 17, 2016
I serve God not and HIS people not religious zealots who need to spew nonsense to keep a check coming from the church

— Kelly Price (@KellyPrice4Real) July 17, 2016
— Kelly Price (@KellyPrice4Real) July 17, 2016
I, along with everyone else, questioned why Price would perform that specific song during a gospel music function. Even her movements and mannerism were as if she was singing a solo for the early morning Praise Team; it all just seemed strange.
However, organizers for the Indiana Black Expo have come in Price's defense. A last minute scheduling change of the We Love Music Conference caused Price's performance to be pushed back an hour, putting it closer to the start of the Gospel Explosion portion.
"IBE has much respect for Ms. Price and is a huge fan and supporter of her work. IBE has apologized to Ms. Price for the change in schedule that caused people to believe that her performance was part of our Gospel Explosion," IBE wrote on its official Facebook page.
Price's friends, producer Rico Love and gospel singer Tasha Page Lockhart came to her defense as well: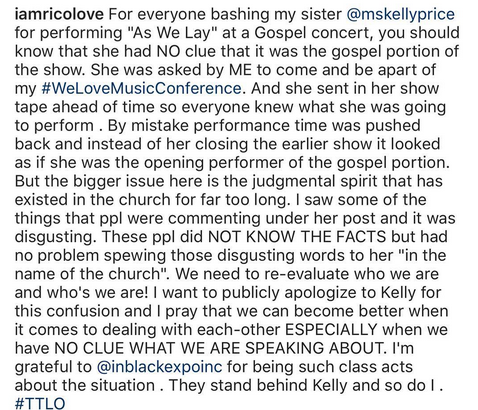 So, after hearing the full story, whose side are you on? The saints' or Kelly Price's?
Be the first to receive breaking news alerts and more stories like this by subscribing to our mailing list.