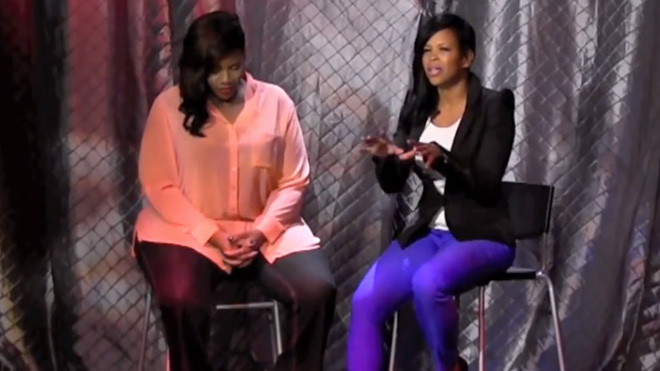 Dawn Robinson is trying her hardest to defend Kelly Price's image in the wake of her being especially awful on TV One's R&B Divas: LA. I don't blame her for trying, but I'm not buying what she's selling. Wait, who am I kidding? I blame her for trying, too.
In a recent interview, Dawn claims:
"Kelly is a wonderful person, and the way they treated her…I've just been praying with Kelly because her heart is broken over what she's sees of herself [on the show]. You build up a career to a certain point, you fought and battled through that career to be heard and seen. People talked about her weight and all the different things, and now to have a reality show tear you down? Uh uh, no, uh uh, no way! I'll be damned."
Yes, because producers made Kelly Price jump in a man's face as if she were ready to fight. Producers made her ditch her co-stars at an event she invited them to. And producers made her act salty with the other ladies, too.
Dawn continued:
"When you show a bunch a stuff, and you have all this footage, and then they just break it down to certain parts of it, and then they omit certain things that you did say, but they don't put that part in there because they want you to look a certain way. So this is why I was telling her, 'Kelly, whatever we do, don't react to people in an angry way, because they're going to film that, and that's what they're going to show. They want to show us fighting against each other, they want to show anger, the angry Black woman, and you're so much better than that," Dawn says she told Kelly. "Please hold your peace as much as you can, and don't let these people take you off your greatness. You are a queen – we don't go there, don't do it.'"
Girl, whatever. In related news, Dawn ditched the reunion show. Based on last night's episode, I assume it's another case of her being afraid. That's exactly why a lot of folks don't like you either, Dawn.
Now, if you wanted to see the lil' monologue Dawn and Kelly did together, have at it below. Good luck.
Be the first to receive breaking news alerts and more stories like this by subscribing to our mailing list.