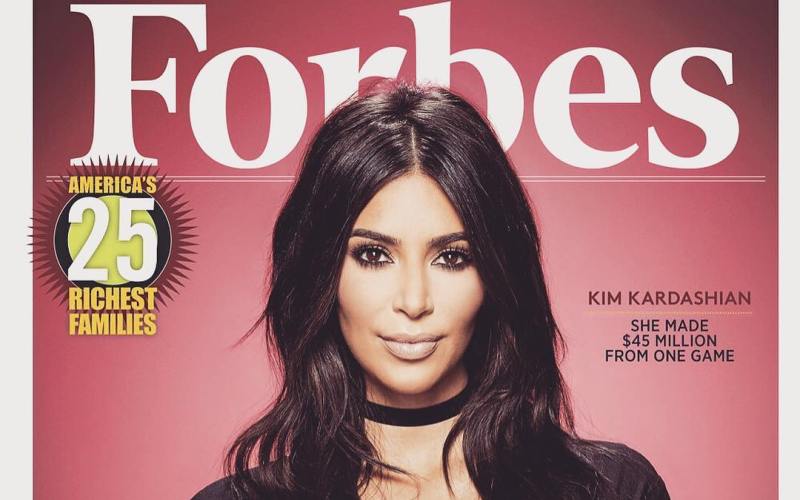 Kim Kardashian has accomplished many things in Hollywood over the years. However, her latest magazine cover may be her proudest achievement yet. The reality star graces the cover of Forbes magazine for its "mobile moguls" issue.
Such a tremendous honor to be on the cover of @forbes! I never dreamed this would happen& know my Dad would be proud pic.twitter.com/jxsjXnfVQE

— Kim Kardashian West (@KimKardashian) July 11, 2016
The issue features celebrities that have amassed a fortune through mobile apps. Kardashian reportedly earned $51 million dollars last year. Her app "Kim Kardashian: Hollywood" attributed to more than half of that amount.
#NotBadForAGirlWithNoTalent ??

— Kim Kardashian West (@KimKardashian) July 11, 2016
And she's absolutely right. Though she came to our attention due to a "leaked" sex tape in 2007, she has somehow transformed intrigue and scandal into a legit career. She has earned multi-million dollar endorsement deals, acted in TV/film, launched successful beauty/cosmetic/fashion lines, posed for the cover of several magazines, she's been involved in other lucrative business ventures, and now she has mastered the mobile app game.
She has also become not only one of the most popular celebrities in the world, but arguably one of the most powerful and influential. Kim Kardashian has created a legacy and empire like no other.
I'm a long shot from a Kim Kardashian fan. As a fan of the performing arts and all things Hollywood, I couldn't understand how someone could gain so much fame while possessing no discernible talent. You could even say I despised her.
However, due to all the accomplishments listed above, I found myself respecting her hustle more and more over the last few years. I can't even complain anymore; the Forbes cover is well-deserved. She played the game and she played it well.
But don't get it twisted. This doesn't mean we have to stop clowning/dragging her when the opportunity presents itself. She makes it sooo easy!
Be the first to receive breaking news alerts and more stories like this by subscribing to our mailing list.