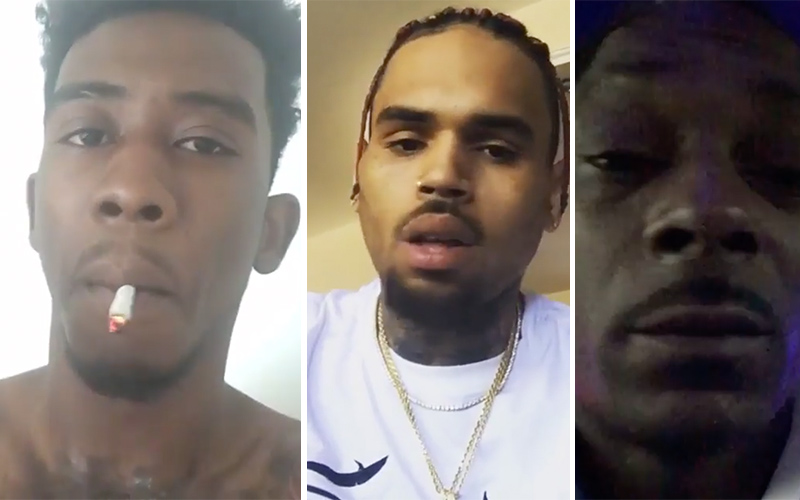 The brutal, unnecessary and race-motivated deaths of Alton Sterling and Philando Castile have rocked the country. And the outpouring of reactions from black celebrities has been ramping up as the evidence gathers and the public cries for answers.
Many celebrities are taking to their social media profiles to vent or make statements. Having a celebrity or public figure help drive awareness and activism around ending police brutality and supporting the Black Lives Matter movement is generally a good thing. But some of the celebrities stepping out there might want to take a bit more care and thought when it comes to crafting their messages.
Specifically, Desiigner, Chris Brown and Snoop Dogg should stop and hit the reset button with some of their social media activity. Because it actually could end up doing more harm than good for the movement.
Snoop Dogg Essentially Calls for Violent Assault in Retaliation
One the one hand, as one of the OGs of gangsta rap, seeing Snoop turn to violence in response to violence isn't a surprise. But on the other hand, as a 40+ something father and husband, you'd think he'd evolved a bit mentally at this point, especially since he's prone to palling around with Katy Perry these days more Compton's most wanted.
But apparently, Snoop is ready to clap back at law enforcement in a not-so-friendly way. And he used his Instagram post to send out a dog whistle to any other gang members who might be interested in attacking police.
"Holla at me. All the real ones holla at me. What y'all wanna do? Fuck the marching, fuck the talking. Get at me," said Snoop.
He also posted graphics calling for Bloods and Cripps to unite and set aside their differences. The implication here being that the gangs should unite against their common enemy: the police.
This kind of dog whistling is VERY, VERY dangerous. At the moment, several Dallas police officers have been killed in a vicious shooting at a Black Lives Matter movement. If the person responsible is a member of the BLM movement who subscribes to the kind of thinking Snoop is promoting, we see where that road leads.
Desiigner Smokes a Blunt While Ranting Against the Police
https://www.instagram.com/p/BHkQY2QhI1d/
You might say that "respectability politics" shouldn't matter in situations like this, but you can't help but cringe as you watch Desiigner smoke a blunt and tell cops to "suck my dick."
Not everyone can be as intelligent and eloquent as Jesse Williams was at the BET Awards, but we need more celebrities who can speak and present themselves like that and fewer celebrities getting high and swearing at the camera.
Chris Brown and His Rainbow Braids Plead for Unity
You would hope that Chris Brown has learned by now that public speaking and media relations are not his strengths. Unfortunately, Chris has failed to grasp this point and continues to make an ass of himself on social media regularly.
In support of the BLM movement, Chris took to his Instagram to call on humanity as a whole to do better. And he preached non-violent retaliation, which was good. But he sort of didn't follow his own advice when he told people to be "articulate."
"We don't gotta be violent, or irate or fucking belligerent. We can be real, articulate humans and really get this shit together, my nigga," said Brown.
The problem is that Chris couldn't get through a single sentence in that video without swearing. So how articulate and "together" is he? The obvious answer is "not very." Learn to speak without swearing and compose yourself in a manner that speaks authority and leadership, and less restless crack user. All that fidgeting on camera for no damn good reason.
Be the first to receive breaking news alerts and more stories like this by subscribing to our mailing list.