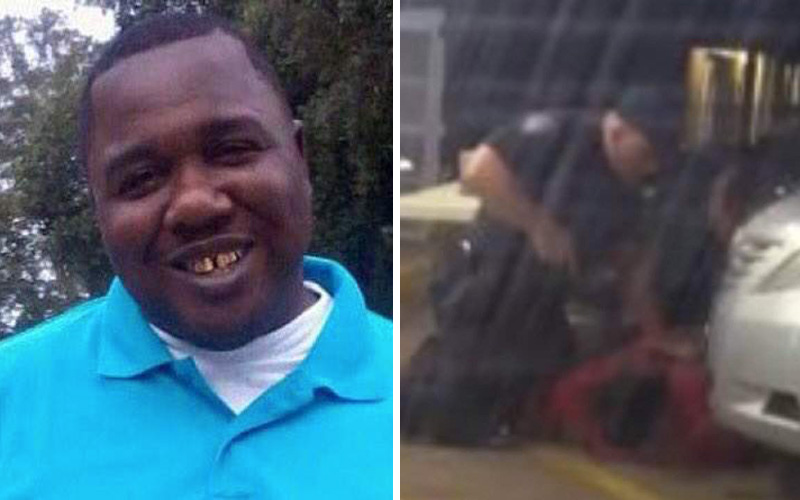 Graphic video footage showing Baton Rouge police shooting and killing a 37-year-old black man named Alton Sterling is going viral online.
The incident reportedly happened early Tuesday morning around 12:30 a.m. outside a convenience store where Sterling had been selling CDs.
According to the New Orleans Advocate, the Baton Rouge Police Dept. hasn't provided details on what happened between their officers and Sterling or what caused the incident to escalate to the point where a cop had to pull out his gun and fire it, reports. However, cell phone footage recorded from just a few feet away from the deadly confrontation shows enough to paint a vivid picture of Sterling's final moments.
Sterling was reportedly selling CDs outside a Triple S Food Mart store when police were responding to a disturbance call of a man who had threatened someone with a gun. The shocking and disturbing video footage that is being shared online shows a man (purportedly Sterling) struggling with two cops who force him to the ground.
"Get on the ground! Get on the ground!" an officer can be heard screaming in the beginning of the clip. "He's got a gun! Gun," one of the officers say while they pin the man to the ground. "Hey, bro, you f**king move, I swear to God!" one officer shouts just moments before the other, who was aiming his gun at the man, discharges his firearm multiple times.
WARNING: GRAPHIC VIDEO FOOTAGE BELOW.
An eyewitness, Abdullah Muflahi (the store's owner) told the New Orleans Advocate he saw how the entire incident went down, and while Sterling was armed, he was not dangerous and he never even reached for his weapon.
Muflahi, the owner and manager of the Triple S store, said he was there around midnight when he walked outside and saw two officers trying to pin Sterling to a car parked in a handicapped spot. The officers hit Sterling with a Taser, but he didn't initially get to the ground, he said.

At some point Sterling was tackled to the ground on his back, with one officer pinning down his chest, and another pressing on his thigh, Muflahi said.

Muflahi, who said he was two feet away from the altercation, said an officer yelled "gun" during the scuffle. An officer then fired four to six shots into Sterling's chest, he said.

"His hand was nowhere (near) his pocket," Muflahi said, adding that Sterling wasn't holding a weapon. After the shooting, an officer reached into Sterling's pocket and retrieved a handgun, Muflahi said.

"They were really aggressive with him from the start," Muflahi said about the officers.

Sterling appeared to die quickly, Muflahi said. Just after the killing, the officer who fired the bullets cursed, and both officers seemed like they were "freaking out," Muflahi said.

The store owner said he heard one of the officers say, "Just leave him."
Per Baton Rouge PD policy, the two officers involved in the deadly shooting have been placed on administrative leave.
"It's an ongoing investigation," BRPD spokesperson L'Jean McKneely told WAFB. "We are going to interview the officers and get as much information as we need to do a thorough investigation. We're going to be clear, precise and sure the community knows what transpired here at this location."
By law, BRPD officers are required to wear body cameras, and while the cops involved were wearing them, police say both of their cameras "fell off" during the confrontation. However, there's footage from a dashcam and one nearby surveillance camera, as well as the purported video footage, which police have yet to confirm.
People in Baton Rouge taking to the streets in response to the shooting of #altonsterling pic.twitter.com/7wYCY7gGFl

— Unity Black (@UnityBlackNews) July 6, 2016
In the wake of the shooting, protesters have taken to the streets of Baton Rouge to stand against yet another unjustified instance of police brutality and killing of a black man. Roads were blocked by demonstrators, who said that they plan on protesting outside City Hall at 8 a.m. Wednesday morning (Jul 6).
N.O. Advocate's Bryn Stole has been reporting from the field and he noted how the protests (so far) have been peaceful.
Protestors gathering at street corner outside shop where a Baton Rouge policeman shot and killed a man last night. pic.twitter.com/wTLxR37ZaT

— Bryn Stole? (@brynstole) July 5, 2016
About twenty or so protestors gathered at the food Mary, chanting "black lives matter" & "hands up, don't shoot." pic.twitter.com/eas9AXdaaq

— Bryn Stole? (@brynstole) July 5, 2016
Nearly constant blaring of horns, both from protestors & those driving by. pic.twitter.com/GVWPdjxMuh

— Bryn Stole? (@brynstole) July 5, 2016
Protestors over police shooting of Alton Sterling—including elected officials & NAACP leaders—chanting on N Foster. pic.twitter.com/sHpyFbZW0s

— Bryn Stole? (@brynstole) July 5, 2016
Crowd still outside Baton Rouge food mart where #AltonSterling shot by police; tv cameras setting up for 10pm news. pic.twitter.com/7SABaDEoJa

— Bryn Stole? (@brynstole) July 6, 2016
Protestors now parking in street to block traffic, raising fiats & chanting "black lives matter" #AltonSterling pic.twitter.com/aGu463ZTN4

— Bryn Stole? (@brynstole) July 6, 2016
North Foster shut down in front of store where #AltonSterling shot by BR police. Bkgrnd: https://t.co/N6CKVsh9fF pic.twitter.com/yfFS18J7D6

— Bryn Stole? (@brynstole) July 6, 2016
Traffic moving again, as protestors in street yell at drivers to come down to Baton Rouge city hall at 8am tomorrow. pic.twitter.com/mP8JapS0jE

— Bryn Stole? (@brynstole) July 6, 2016
No sign of Baton Rouge police or other law enforcement out here, by the way, as protests carry on strong past midnight.

— Bryn Stole? (@brynstole) July 6, 2016
It's all peaceful out here—lots of chanting in the streets but nothing out of hand—just saying haven't seen police in a few hours. Notable.

— Bryn Stole? (@brynstole) July 6, 2016
As some people leave, lots more come. A younger crowd now outside where #AltonSterling was shot about 24 hours ago pic.twitter.com/5lX34UW8Z2

— Bryn Stole? (@brynstole) July 6, 2016
Baton Rouge Congressman Cedric Richmond is already calling for a Justice Department investigation into Alton Sterling's shooting death.
"The video footage released today of the shooting of Alton Sterling by officers of the Baton Rouge Police Department was deeply troubling and has understandably evoked strong emotion and anger in our community," said Rep. Richmond. "I share in this anger and join the community in the pursuit of justice. My prayers and thoughts are with Mr. Sterling's family as they deal with this tragedy."
He continued, "There are a number of unanswered questions surrounding Mr. Sterling's death. Including questions about the initial calls for police presence, the level of force used by officers, the verbal and physical altercation, and the response of the officers after he was shot. I call on the U.S. Department of Justice to conduct a full and transparent investigation into this incident. The cause of justice requires state and local law enforcement to join in this request as soon as possible."
Richmond concluded, "I ask the leaders and citizens of Baton Rouge to join me in demonstrating our anger with dignity and demanding proper focus on our cause with perseverance. His family and the citizens of Baton Rouge–especially the citizens of North Baton Rouge–deserve answers and that is what we will seek in a fair, thorough, and transparent way."
Be the first to receive breaking news alerts and more stories like this by subscribing to our mailing list.