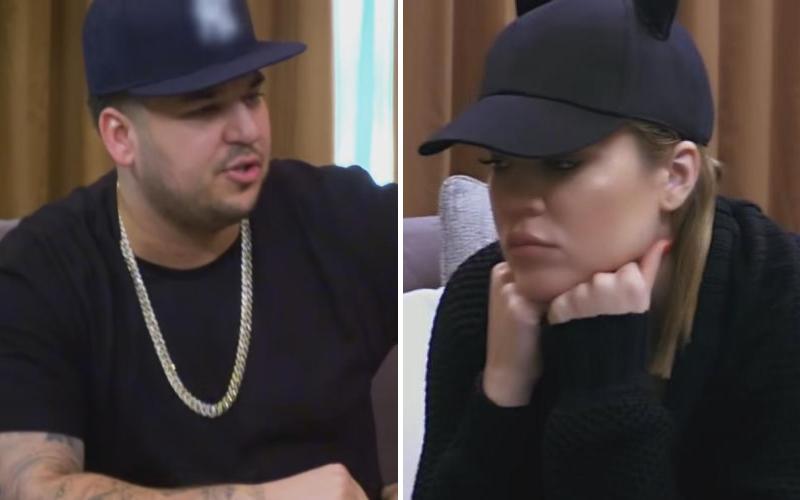 The latest episode of Keeping Up with the Kardashians featured Rob revealing his recent life changing events to his sister, Kim, Kourtney, and Khloe.
The sisters were upset to learn about Rob's engagement to Blac Chyna via social media. He explained, he didn't know how to tell them given how his sisters feel about Chyna. However,  Khloe — arguably his closest sibling — was the most affected by the news.
"I don't know my emotions right now. I am empty … I am internally sad," Khloe said in a private confessional.
Khloe was so shocked by the baby news that she couldn't do anything but hold her head down and sit quietly as her sisters congratulated Rob. Khloe's reaction may be due to the strained relationship her family has with Chyna or because she will now be the only Kardashian sibling without a child.
Regardless of how she felt at the time, Rob and Chyna were seen having a great time at Khloe's recent 32nd birthday bash. The three even posed for several photobooth pics together, which were posted on social media.
https://www.instagram.com/p/BHMGtDCh2tX/
Rob and Chyna's fast-tracked relationship has taken everyone by surprise. However, everything (including more fallout from Khloe, Kris Jenner, and the Kardashian clan, I'm sure) will be documented on the couple's upcoming reality show. Tentatively titled, Rob & Chyna, the series is set to air later this year on E!
Be the first to receive breaking news alerts and more stories like this by subscribing to our mailing list.