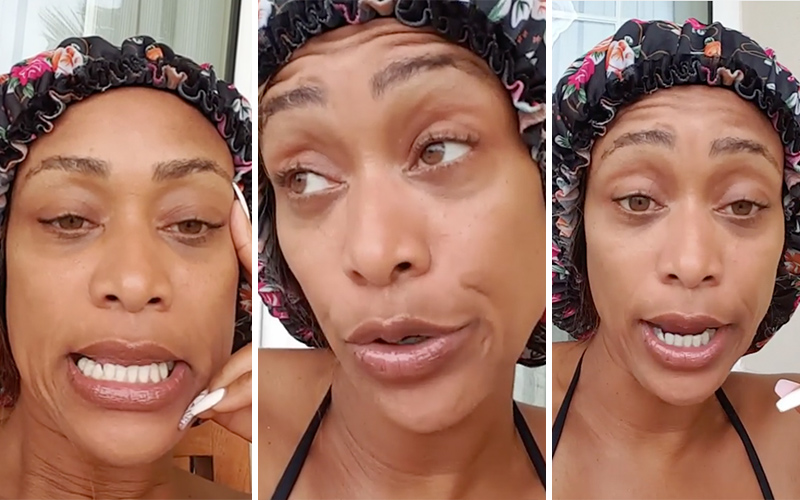 Sorry, Kandi Burruss. I know you were the first to make wearing bonnets on TV a thing, but Tami Roman is taking the bonnet and making an Internet sensation out of it.
Tami Roman, who originally rose to fame on MTV's then-trailblazing reality TV show Real World, is most well known to the current generation as a sassy, take-no-prisoners, pull-no-punches reality TV firecracker. Her resume includes stints on several VH1 shows, including Basketball Wives, its L.A. spinoff Basketball Wives L.A. and WeTV's Marriage Bootcamp.
But Tami has developed an Internet-only brand of truth serum that is resonating with The Shaderoom-watching masses. Her #BonnetChronicles is a video series on Instagram where the reality star essentially serves a read or a rant on any given topic. So far she's done four.
Tami Roman Defends Iggy Azalea
https://www.instagram.com/p/BHULbfVgCa0/
It's no secret that Iggy Azalea has been having the worst year ever. With her engagement to Nick Young falling apart and her music career on its last legs, Iggy Azalea has become hip-hop's favorite punching bag. But Tami isn't here for it. Not because she necessarily thinks Iggy Azalea is talented, but because people consumed and supported Iggy, and put her on a platform and a pedestal, and now these same people are blaming her for ruining the artform.
"Iggy didn't ruin hip-hop. Y'all ruined hip-hop. That's right. When ya asked her to come on ya lil' interview shows, when you put her in the BET Cypher, when you watch her videos, downloaded her music, y'all ruined hip-hop when you supported it," said Roman. "Iggy, I ain't mad at ya. they invited you to the masquerade ball and you wore the best costume, bitch."
Tami Is Tired of Bitches Thinkin' They're the First
https://www.instagram.com/p/BHPa1pMgn3A/
For some reason, some celebrities LOOOOOVE to think they were the first to do something. But Tami Roman, and her bad-ass bonnet, are here to remind you that no, you didn't. Cause everything has been done before and everyone is inspired by someone who came before them.
"'Oooh, I started cornrows.' Bitch, have you seen a picture of Harriet Tubman?" said Roman.
Tami Claps Back at Haters Who Are Tired of Her Appearing on Different Shows
https://www.instagram.com/p/BHR6CTyg77F/
Let it be known that Tami Roman does not give a single fuck if you don't like seeing her on all of these TV shows. You know why? Because as a TV star, it's her job to stay employed so she will continue to accept gigs that come her way. Get used to it.
"Do you tell your hair stylist that that bitch can only do one head?" said Roman. "You can't be a TV personality if you ain't on TV. So guess the fuck what? I'ma be on as many shows as a bitch can."
Tami Clarifies Who the Queen of Reality TV Really Is
https://www.instagram.com/p/BHYOwAEg-8I/
Maybe it's just me, but this #BonnetChronicle episode seems like a shot fired at NeNe Leakes. Tami takes a moment to clarify that the REAL queen of reality TV is Heather B, as she was the first black woman to appear on the first reality show, MTV's Real World. Tami followed in Heather's footsteps on the second season of the show, which she acknowledges.
"Thank you, Heather B, for gettin' it poppin' cause then they let my black-ass on. And I been doing this for 20 years," said Roman.
Be the first to receive breaking news alerts and more stories like this by subscribing to our mailing list.