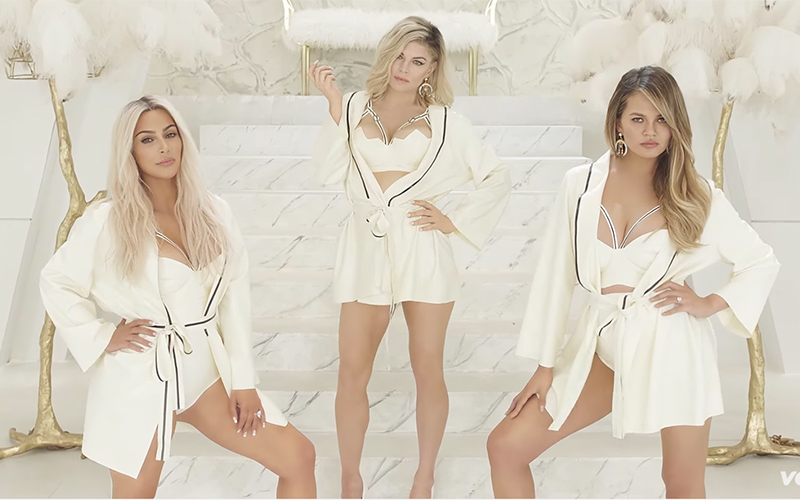 Taylor Swift is not the only one who can assemble a girl squad. Fergie calls on Kim Kardashian, Chrissy Teigen and Ciara for support in her comeback music video "M.I.L.F. $"
The song is a tongue-in-cheek play on the NSFW version of that acronym, though Fergie attempts to put a positive spin on it by changing the acronym to "Moms I'd Like to Follow." But she still flirts with the original meaning as she squirms in a milk bath, bends over provocatively, and flirts with shirtless milkmen.
Watch Fergie's new music video below.
After stumbling with her previous attempted comeback single, "L.A. Love," this strikes a much better chord. It's a retread of Fergie's tricks, but it feels fun, fresh and familiar enough. And with Iggy Azalea completely floundering, the lane is open again for a talk-singing white girl who flirts with hip-hop, so push through, Fergie.
The cameos from Kim Kardashian, Ciara and Chrissy Teigen were a nice touch. There were a bunch of model-type white chicks who are apparently moms too, but the one MILF that would've made this video truly perfect and epic would've been Beyoncé. But let's face it, the odds of Bey making a cameo in a Fergie video about as a good as the odds of Bey making a cameo in a Keri Hilson video, so it was never gonna happen any damn way.
Be the first to receive breaking news alerts and more stories like this by subscribing to our mailing list.