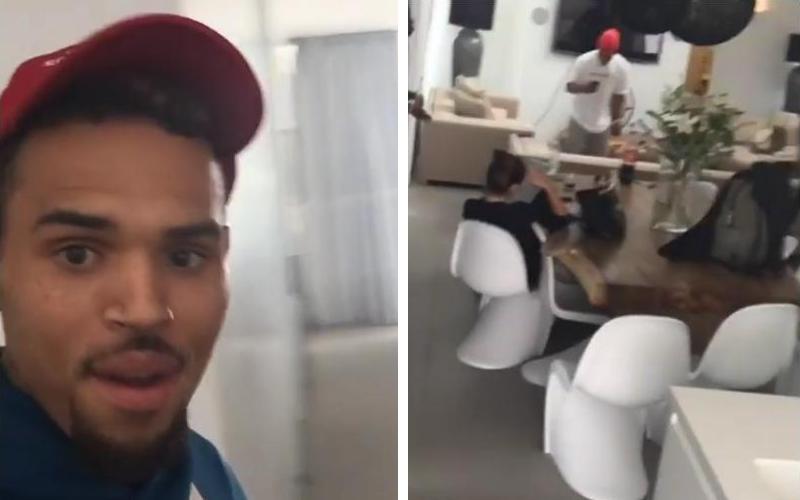 All of Chris Brown's legal woes might be paying off in a way no one would have expected. Amid reports the singer trashed a rented villa in Ibiza with pee and vomit, he had the foresight to record video proof to the contrary.
In a series of Instagram posts, Brown shared video of himself walking through the house. From the naked eye, everything seemed to be in order. The house was clean, no broken objects, and very beautifully decorated. Brown says he recorded the footage 10 minutes before they left because the landlord was making "petty" and unnecessary allegations.
"So if y'all see some bulls**t on TMZ saying, oh, Chris Brown and them trashed the f**king house or whatever, that's the people, the landlords trying to get some money… I don't conduct myself like that. We turn up, we have fun; we're not no f**king animals, bro," he said in one of the posts.
https://www.instagram.com/p/BHV61eWgUul/
https://www.instagram.com/p/BHV-AhsADr1/
https://www.instagram.com/p/BHV_yy3g79F/
According to a police report, Brown and his left the villa with pee in a bed, vomit in several places, and holes in the wall. The landlord also accused Brown of owing $60,000 in rent and damages. Police were called when Brown refused to leave the premises after checkout time.
Brown showed the damaged wall in the video and suggested it was cheap sheetrock that could be repaired with $60. The rent dispute was also reportedly settled.
https://www.instagram.com/p/BHWAck1AQ9w/
https://www.instagram.com/p/BHWD9bQgH_1/
The singer was rightfully upset as the drama unfolded. "Let's put Chris Brown's name in it, so people can automatically assume 'cause I don't have the benefit of the doubt," he said. Though he doesn't have a great track record, and given his rough week, admittedly, it was easy to assume the worst.
Now that we know what really went down, Brown actually showed maturity in this particular situation. Is this the start of a new and improved Chris Brown? Has fatherhood really changed him? It's too soon to answer these questions, but at least this is one legal snafu he doesn't have to worry about.
Be the first to receive breaking news alerts and more stories like this by subscribing to our mailing list.