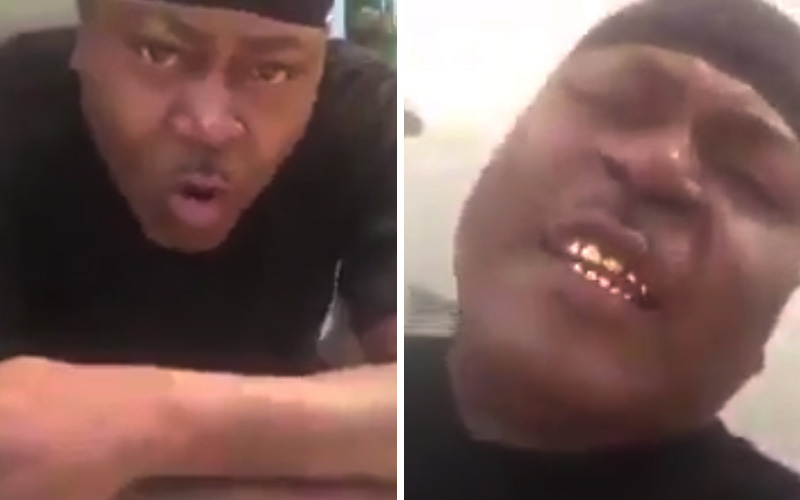 Somebody please turn off Trick Daddy's WiFi.
The Miami rapper became a trending topic on Twitter yesterday after an awkward video of him threatening an unnamed woman went viral.
In the footage that's making the rounds on social media, Trick shouts directly at his phone or camera, curses up a storm and calls the woman all kinds of bitches and hoes. At one point, Trick gets so mad that he spits on whatever device he's recording on.
"Who this hoe talking to? Tell that bitch I'm live!" he said. "Tell that bitch to keep my name out your mouth, bitch… before I stick a pistol in your mouth. P**sy a** hoe. You better keep my name out your muthaf**kin' mouth, p**sy a** bitch."
Apparently, the whole ordeal stemmed from a comment the woman made about Trick during his Facebook Live video.
The whole thing is just confusing, and if you don't know what's really going on here then you're in good company because we (and most of the social media, for that matter) have no idea what the hell is happening either.
https://twitter.com/iiBreakNecks/status/747868452916867072
https://twitter.com/itsbizkit/status/747753783510319104
The woman responded to Trick Daddy's threats and it's obvious that she's just as much about that life as he is.
#CatchTheTea BLOOP! Here's the chick Trick Daddy was speaking too https://t.co/wxI3l4NnCh #trickdaddy pic.twitter.com/69tUbw7oke

— #Catchthetea (@catchtheteaTV) June 28, 2016
SMH!! We're gonna keep both Trick Daddy and this woman in our prayers…
Be the first to receive breaking news alerts and more stories like this by subscribing to our mailing list.