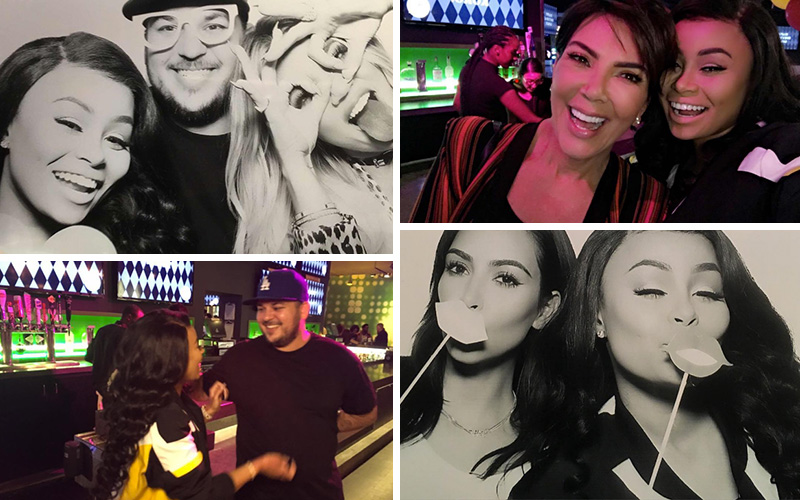 There appears to be a thaw in the frosty relationship between Rob Kardashian's baby mama/fiancée Blac Chyna and the rest of the Kardashian clan.
Yes, more shocking than the fact that Khloe chose to celebrate her 32nd birthday at the arcade eatery Dave & Buster's (you gotta love it when the Kardashians try to keep it real) was who was included on the guest list: Blac Chyna.
From the multitude of Instagram photos and videos, it appears a good time was had by all in attendance, including: Momager Kris, the birthday girl (Khloe), Kim, Kourtney, Kylie, Rob, Chrissy Teigen, John Legend, Scott Disick and Larsa Pippen.
https://www.instagram.com/p/BHMGOOLB0Mh/
https://www.instagram.com/p/BHL9HG0hnYU/
https://www.instagram.com/p/BHMKaQLhWQc/
https://www.instagram.com/p/BHMQMOehowE/
https://www.instagram.com/p/BHL4ZSGBUks/
https://www.instagram.com/p/BHL8kCohX_H/
In case you've been living under a rock, the Kardashians' open-door policy towards Chyna is a huge deal. Bad blood has been in abundance between Chyna and Rob's sisters thanks to a weirdly incestuous love triangle square involving Rob, Chyna, Kylie and Kylie's on-again, off-again boyfriend, Tyga. Chyna is also the mother of Tyga's son, King Cairo.
The timing of this peace summit is a bit suspect since Sunday's (June 26) episode of Keeping Up with the Kardashians focused on Rob's family's reaction to being blindsided by the news of his engagement online while on a vacay in Colorado. Their reactions ranged from hurt to angry, and nobody was thrilled for the happy couple.
Maybe the first family of trash TV was worried they'd look bad bashing a pregnant woman?
https://www.instagram.com/p/BHMGtDCh2tX/
Khloe really laid it on thick, posing with Chyna and Rob in a photo booth. Rob's big sis supposedly bounced her brother from her crib in January after he started dating Chyna.
Is this newfound camaraderie going to stick? Only time will tell.
Be the first to receive breaking news alerts and more stories like this by subscribing to our mailing list.