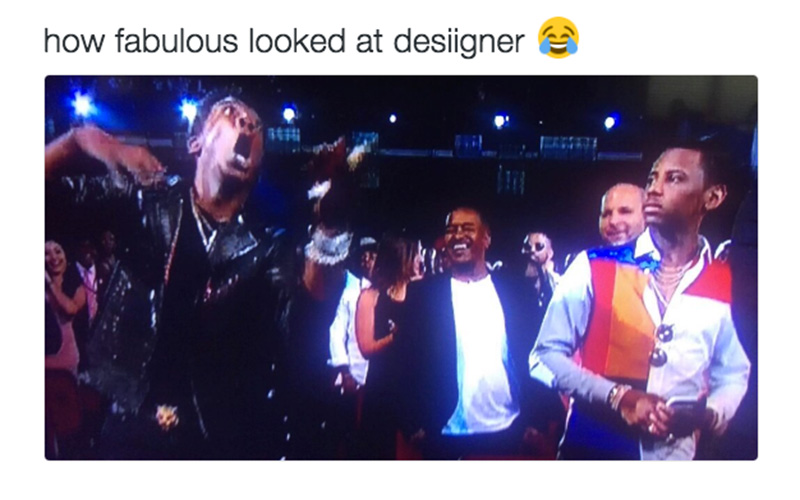 On Sunday night (Jun 26), G.O.O.D. Music rapper Desiigner took the 2016 BET Awards by storm with his extra hype, over-the-top performance of his hit single "Panda."
Desiigner spent the majority of his time on stage ferociously dancing, doing the Milly Rock, and throwing his mic up and down in the air. At one point, he jumped into the audience and got way too close to rapper Fabolous, who's reaction was captured on camera and has already been made into a hilarious meme.
Fabolous appeared to be extremely annoyed and unamused by Desiigner invading his personal space. He later sent out a tweet saying that wasn't the case. Too bad we don't believe him.
how fabulous looked at desiigner ? pic.twitter.com/fzBuvpDqgw

— Goofy (@WhoGoofy) June 27, 2016
Fab looking like he want to ask desiigner if he took his medication today https://t.co/HdcC9EzMOY

— Golden Lady Wallace (@MissKlept) June 27, 2016
https://twitter.com/gunnarkaufman/status/747233921373376512?ref_src=twsrc%5Etfw
How Fabolous looked at Desiigner pic.twitter.com/eGv9ZQLLDN

— Bankroll Kwaz ? (@Kwazbechillin) June 27, 2016
https://twitter.com/LowkeyCute/status/747237079587774464?ref_src=twsrc%5Etfw
Nah Desiigner just caught me off guard ?

He was on stage, I looked down at my phone for minute then I looked up & he was by me ??

— Fabolous (@myfabolouslife) June 27, 2016
Even Neo-soul singer Maxwell seemed a bit confused.
Me trying to decipher Desiigner lyrics pic.twitter.com/gXtqjU7uBy

— Dad (@fivefifths) June 27, 2016
The Internet also unleashed a host of other memes based on Desiigner's performance, and they're ROTFLMFAO funny.
Desiigner a real life Mr. Krabs meme without effects pic.twitter.com/9pnLITWrnE

— aunt viv (@_veevyan) June 27, 2016
SOMEONE REALLY PHOTOSHOPPED DESIIGNER GETTING THROWN OUT BY UNCLE PHILDSJKDSKJAHKHAKSGK pic.twitter.com/Cub3bJltQf

— MF_Brown @ Earth (@MF_Brown) June 27, 2016
Man who did this to Desiigner?! ??? pic.twitter.com/DTdiPRyLFu

— Hip Hop Chamber (@HipHop_Chamber) June 27, 2016
When the water too hot in the shower #Desiigner #BETAwards pic.twitter.com/UESfQNXEfp

— cb (@onlycmb) June 27, 2016
Young metro doesn't trust desiigner pic.twitter.com/8zFtBW4AdA

— $teez (@hstleandprosper) June 27, 2016
Desiigner looks like that one lady in church that is extra af when the pastor says "can I get a witness?" pic.twitter.com/RjH4G88GrM

— Suge Knight Jr. (@ChillWill1914) June 27, 2016
jordan: i need a new logo.
desiigner: say no more fam. pic.twitter.com/aV1osPYycN

— ISHMAEL (@IshmaelRaps) June 27, 2016
Gotta love the Internet.
Be the first to receive breaking news alerts and more stories like this by subscribing to our mailing list.