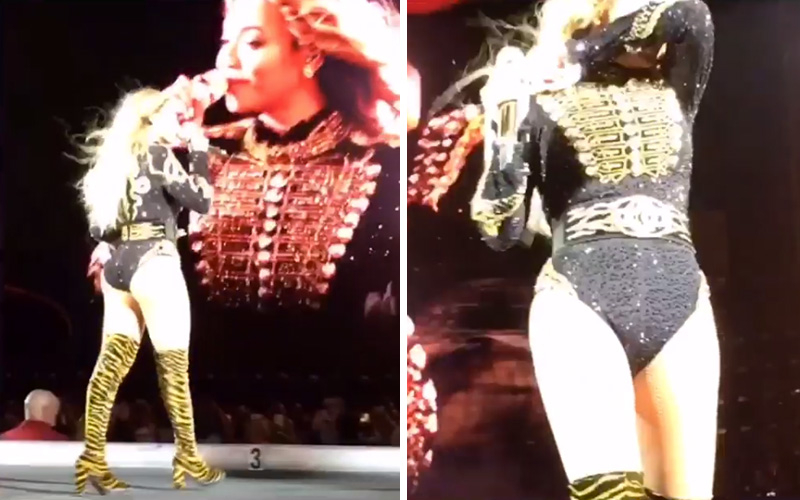 Amid the many major news developments this week — Hillary Clinton clinching the Democratic nomination for presidency, the tragic death of MMA fighter Kimbo Slice, the Cavaliers overcoming a 2-0 deficit in the NBA Finals — Beyoncé sneezed.
The sneeze happened while Beyoncé was performing for her "Formation" Tour in New York City Tuesday night (Jun 7) in front of a sold out crowd of about 45,000 fans, and everyone completely lost it.
In videos posted to social media, fans could be heard, in between screams and cheers, yelling "Bless you!"
https://www.instagram.com/p/BGZNMScg6a7/
I sneeze, Beyonce sneezes, therefore I am Beyonce. pic.twitter.com/8s2Z9AQ3Bc

— Gabby (@GabrielleMonae) June 9, 2016
Fans who attended the show immediately flocked to Twitter to announce to the world that they were able to witness something most people will never be able to see, and those who were simply hearing about the sneeze were equally impressed.
45,000 people just watched Beyoncé sneeze and we all cheered for her. #FormationWorldTour

— Madison Telles (@MadisonTelles) June 8, 2016
Beyoncé just sneezed into the crook of her arm of her Gucci costume in between songs and it was very endearing.

— Kurt Soller (@kurtsoller) June 8, 2016
Beyoncé sneezed and the whole stadium said God bless you honestly my goals

— vicky (@vickywatchestv) June 8, 2016
https://twitter.com/chlomleo/status/740380866568945664
That time @Beyonce sneezed on stage & the crowd melted ? she is real! #FormationWorldTour pic.twitter.com/hCR0nzUiw0

— Carey R. Woodruff (@carey) June 8, 2016
Just saw Beyoncé sneeze. She is human. #FormationTour

— Kenzie Moss (@kenziemoss) June 8, 2016
BEYONCÉ JUST SNEEZED THE MOST ADORABLE SNEEZE #FormationWorldTour

— Little Saint Nic ??? (@njnic23) June 8, 2016
I saw @Beyonce sneeze on stage during the #FormationWorldTour and it changed my life.

— Lerna?? (@Lerna) June 8, 2016
https://twitter.com/aaronmedwards/status/740415269525454848
Didn't even know Beyoncé could sneeze yo

— Desus Nice (@desusnice) June 8, 2016
Some Twitter users were jealous of the type of attention Beyoncé was getting for sneezing, and how ***Flawless it was:
https://twitter.com/Triendz/status/740557578883629056
I just sneezed and no one clapped. What happens when you're not #Beyonce #BeyonceSneeze

— Gretchen Schauffler (@whatupg) June 10, 2016
Beyonce can sneeze on the beat and the beat gets sicker. I sneeze on the beat and the beat should probably go to the free clinic.

— JB (@jermykermy) June 10, 2016
When Beyoncé sneezed at her concert she still looked flawless, but when I sneeze I look like a baby gorilla getting excited about a banana..

— Madison Ryan (@_madisonryan_) June 11, 2016
No one cheers for me when I sneeze. What is this horse shit?!#BeyonceSneeze

— Whitney Golden (@WhittyGolden) June 10, 2016
Beyonce sneezes and the world flips out. I sneeze and people walk away from me lol

— Christal? (@NotACrystalBall) June 10, 2016
Beyoncé sneezed at a concert and everyone went crazy. I sneezed at work and was told "you're not allowed to sneeze"

— Tori Holmes (@torigholmes) June 10, 2016
Beyoncé sneezed and a whole stadium full of strangers said bless you. My friends don't even say bless you when I sneeze

— Wei Qian (@weiqianooi) June 10, 2016
Then, there were the haters, of course, because a Beyoncé event is nothing without the haters:
It's a body function. We all sneeze. Why are people so hyped about Beyonce sneezing

— ?Liliana? (@_LilianaMaria) June 10, 2016
I hope that Beyoncé didn't sneeze while she was lipping.

— Parker Targaryen ? (@HerMajestyBey) June 8, 2016
our minds are so little if we care about Beyonce sneezing. there's a bee crisis that no one cares about but we care about a sneeze ???

— v (@rvixo_) June 8, 2016
https://twitter.com/Rockzawesome/status/740697457517035521
okay…. beyonce sneezed so what. millions of people sneeze everyday

— Jess ?? (@High4This20) June 10, 2016
Yes, millions of people do sneeze everyday. But they aren't Beyoncé.
Meanwhile, we have a theory on where that little sneeze came from:
Blue sneezed and everyone reacted lmfaoo pic.twitter.com/GUIvfR14O3

— ? (@babyheirandafro) June 8, 2016
Be the first to receive breaking news alerts and more stories like this by subscribing to our mailing list.